Horseshoe set is an old game that has been played for many centuries and which to date still holds so much fun, especially for beachgoers, campers, and generally anyone who wants to have wholesome fun.
The game aims to toss a horseshoe to a stake and encircle the stake to form a 'ringer' and earn a maximum of 3 points.
With how popular the game is, many people have lots of old horseshoes and wonder if they should discard them or recycle them into something better.
There is also a second group of people who are new to the game and are looking to buy the best Horseshoe set in the market. There are still other people who want to know a little bit about this game. We are here to help all these groups of people.
What Are Old Horseshoes Made Of?
The first horseshoes used before were made of leather which they wore on horses mostly during wars or for serious journeys. But as time passed, these leathers were changed to metals.
The metal used in making horseshoes for pitching are usually iron or a low carbon mild steel, and they weigh about 1kg ( which is about 2.5 pounds) and 19cm long ( about 7.5 inches), the wider side is 7 inches wide while it is 3.5 inches between the calk.
Related Post: Best Ring Toss Game (2021 Reviews and Guide)
What Can I Do With Old Horseshoes?
There are quite a number of creative uses you can put your old horseshoes into, especially if you are someone who loves rustic designs. 
The great news is that you do not need to do anything but nail them to a place and maybe give them a coat or two of paint for some of them. Here are a few of the ways your old horseshoes will prove useful:
1. You can turn your horseshoes into a key holder, and all you have to do is give it a coat of paint, then nail it to a piece of wood, and you hang the wood on the wall. You can now hang your keys and even jewelry on them.
2. You can use the Horseshoe as wall decor; all you need to do is paint them and glue them creatively while adding other elements that will add more beauty to the piece.
3. You can turn some of your horseshoes into a rustic wine rack. These racks can be made into different designs and colour of horseshoes.
4. If you want a Candle Stand, why not convert that old Horseshoe into one by simply turning the horseshoes in such a way that the heels are the support and then nailing them to the ends of a log. Then drill two swells in the wood, and you can place your candle in.
5. You can reuse old horseshoes by turning them into Bridle Rack, where you hang horse halters, whether in the stall door or the tack room.
You can think up more ways of turning that Horseshoe into a piece of art or a useful item; when you do, let us know.
Recommended: How Do You Make a Portable Horseshoe Pit? (6 Easy Steps)
Best Horseshoe Set Buying Guide – What To Look For When Evaluating Horseshoe set
Different Horseshoe sets are available that if you are not careful, you will buy a set that does not give real value for money. Here are the best horseshoe sets that there:
1. Gordon Professional Pitching Horseshoe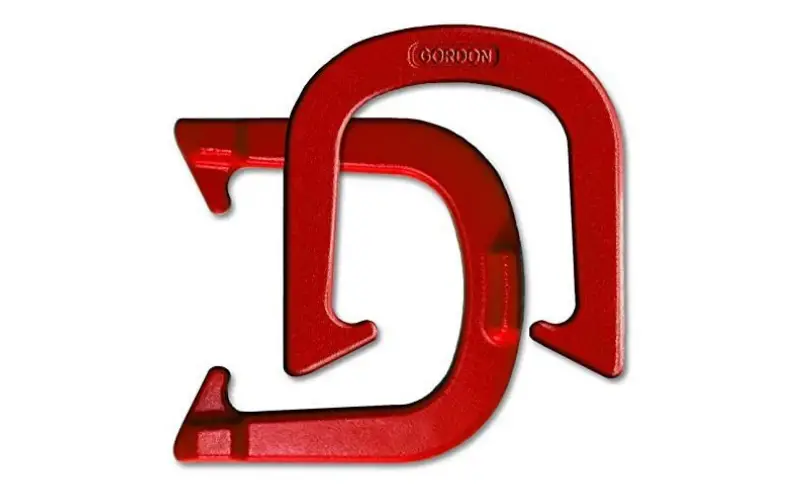 This Horseshoe is a product of careful design and execution that affords players at their different skill levels the opportunity to make solid ringers successfully.
Features:
1. They are heavy-duty drop forged steel construction.
2. They come as a pair in a set which means you get two horseshoes.
3. The powder coat red finish of the unit is of premium quality.
4. The weight of the set is 5 pounds, and it is of medium size, which is the Regulation Size.
Why You Will Love It
1. It is an all-round game set that almost everyone can use because of its medium weight and yet still fits well for professional horseshoe games.
2. They are used by many horseshoe leagues across America and many other countries, which is an endorsement that makes more people use them.
3. They are manufactured with the best quality AISI Steel, unlike others made of low-quality steel or cast iron.
4. They have exceptional strength and durability, and they do not usually break or crack.
5. They have a 1-year warranty against breakage, which shows how much the manufacturer can attest to the quality of their product.
2. Champion Sports Horseshoe Set
These horseshoes are good for tournaments and can still be used while family and friends play in camps, tailgate, barbecue and what have you.
Features:
1. The set comes with four horseshoes made of steel, 2 of them are chrome plated, and the other two are brass plated.
2. It also comes with two strong and durable metal stakes.
3. It also has a carrying bag and an official rule book.
Why You Will Love The Game
1. They come with stakes that save you the hassles of trying to buy one for the game.
2. They are made of rust and corrosion-free material, meaning the horseshoes will serve for long without deteriorating due to rust.
3. The carrying bag is made of heavy-duty weatherproof case material that makes transporting the unit very easy.
3. ST. Pierre American Professional Series Horseshoe
The shape of this Horseshoe is unique and a little bit different from your conventional horseshoes. They are used by many leagues around the world and are rugged and durable. The set comes with complete accessories for playing the horseshoe game.
Features:
1. The set comes with four official drop-forged solid steel metals.
2. You have in this game set a 24-inch Solid Steel Stakes that is very strong snd durable.
3. In the package, you also get an Official Rulebook that teaches you how the game is played and how to maintain the game set.
4. It also has a Black Plastic Tote that makes transporting the game set very easy.
Why You Will Love It
1. The game set has a 60-days warranty.
2. It is relatively cheaper than other horseshoe sets of the same quality.
3. It is made of premium material which means the product will last for a long time.
4. Franklin Sports Horseshoe Set
This horseshoe set was designed to maximize your performance and allow you to enjoy quality time with friends and family, be it on the beach, picnics or what have you as you enjoy an exciting game of Horseshoe.
Features:
1. This recreational horseshoe game set has four steel shoes and two steel forged stakes, which means you have all you need to play the game.
2. Each Horseshoe weighs 2.1 pounds which is the standard weight for a traditional horseshoe game.
3. The horseshoes are coated with a Hammerite finish.
Why You Will Love It
1. The product offers good value for money.
2. They are quite sturdy and durable and will last you for a long time.
It is made solely for recreational purposes, even though other horseshoe products of the same brand are made for professional use.
5. Stinger Professional Pitching Horseshoes
This product, also known as Thoroughbred Horseshoe, is a WD Horseshoe Company product with a ring breaker that is sharply pointed like a bee's stinger. This feature is useful in deflecting dead centre hits to the hook instead of it bouncing straight off.
Features:
1. This Horseshoe comes on a single pair.
2. They each weigh about 2-1/2 pounds.
3. They are made of a unique Iron Alloy that does not get easily deformed, and it is also burr resistant.
Why You Will Love It
1. The product has a two-year warranty which is a pledge of the manufacturer's confidence in the durability of their product.
2. The National Horseshoes Pitchers Association NHPA approves it for use in leagues and tournaments.
3. It has an excellent customers review.
What Are The Benefits Of A Horseshoe Set?
Horseshoe as a game has been played for many years. Many people see it as a means of entertainment or relaxation, which it truly is; however, many benefits playing the horseshoe game yield that many people don't realize.
Horseshoe is not played alone, but with people; as you play with other people, you talk with them, share a few jokes, laugh, and generally interact with them on a deeper level than you would ordinarily.
While this interaction might not seem intense, it creates bonds between people that helps them to improve their quality of life.
When you play horseshoes, you actively engage your mind as you calculate and evaluate how to toss the horseshoes, the angle from it, and the right way to piston your hands. This involves a lot of mental work and coordination, which you keep building into yourself as you plan.
Horseshoe involves a lot of flexing your muscles as you try to get the best tossing angle; you also bend, toss the Horseshoe, go to retrieve them and come back.
All these are physical activities that keep you fit and healthy. Hence, playing the game is a good way to get in your exercises and even lose a few pounds.
Best Old School Horseshoe Set
Many old-school horseshoe sets are available, but there are three distinguishing characteristics that you should look out for when buying one.
1. The weight
The standard weight for all professional horseshoe games is 1kg which is about 2.5 pounds. Any horseshoe set whose value is different will not give you the same playing experience.
2. The material
Best horseshoe products are usually made of the best quality steel, cast iron alloy and cast steel. These metal products are not only strong, but when they are coated, they are rust-resistant.
3. Quality and price
For Any quality product you want, then be ready to part with a few more bucks. You can ascertain the quality of the Horseshoe you are buying by checking if they are solid, well balanced, and symmetrical. These are the symbols of a heavy-duty and high-quality horseshoe.
How Do You Clean An Old Horseshoe?
To get the shine back in an old horseshoe which is probably rusted and old, do the following :
1. Use an old toothbrush or a scrub brush to remove all the dirt and grime around the horseshoes, especially at the cracks and crevices. A toothpick should be used to get the dirt off these cracks.
2. To remove any rust on the Horseshoe, apply a little grease on a steel wool pad, sandpaper or wire brush to clean the whole surface and tidy it of rust.
3. Then, place the Horseshoe in a plastic bowl and add enough white vinegar to cover the Horseshoe completely. Allow it to sit on the vinegar for 24 hours; afterwards, remove the Horseshoe and use a steel wool pad to scrub it, and your old Horseshoe will be looking new again.
Can Horseshoe Be Recycled?
You can recycle your horseshoes by simply cleaning and coating them and using them again to play the game you love. However, if they are broken, you might have to resort to putting them into other uses.
You can creatively recycle your old horseshoes into different decorative and aesthetic uses like artwork, wall decorations and the likes.
Conclusion: Old School Horseshoe Set
Horseshoe is a great game with which you can have a good time with loved ones; it is a fun game to play and has some psychological and health benefits.
There are different brands of this game that are available from which you can make a choice, and if you have a lot of old horseshoes that you are thinking of discarding, while not putting it into productive use by recycling it.
You May Also Like:
We trust this article helped you know the buying guide for Old School Horseshoe Set. You may also want to check out: How Do You Make a Portable Horseshoe Pit? (6 Easy Steps).
Thanks for taking the time to read our article, and we hope you find it helpful. Would you mind leaving a comment below if you have any suggestions?
Kindly reach out to people by sharing this post on social media.
If you liked this article, then please follow us on Facebook, Instagram, and Pinterest.