Whether indoors or outdoors, ring toss is the perfect game for summertime and indoor days. They are fun for both adults and kids, and they are easy to play, making them more fun.
This classic and vintage game was first known in 1870 and was played by the people of England. 
It is an awesome game for a great time in the yard; that is why we will be recommending the best ring toss game set and some factors you should consider before purchasing.
Best Ring Toss Game to Buy
1. Sports Premium Wooden Ring Toss Game
GoSports is a reputable brand for sporting equipment; they are known for complete and quality products, which is why it is listed as one of the best ring toss game sets. This set has a length of 3 inches, a width of 5 inches, and a height of 18 inches.
This set includes a wooden ring toss target and is colorful with four sturdy rope throwing rings to create a challenge for adult players. 
It also includes colorful score marking and a carrying bag for easy transportation and storage. It can be played by one to four players. This set comes disassembled and needs to be put together. Fortunately, all of that is an easy process that will take you no time.
2. Elite Sports Ring Toss Games for Kids And Adults
This ring toss game set is made of plastic and wood. It has a length of 8.4 inches, a width of 8.3 inches, and a height of 1.2 inches. One of the biggest issues of having any backyard game is their home size, but the Elite sports ring toss game set is perfect for indoor games. 
The unique feature that makes it differ from any other ring toss set is its dartboard-like mechanism. 
Your board hangs on the wall with hooks that catch the rings when thrown; using this set can make this game fun and challenging. 
It also has points written on the board, so assigning scores to players should be a piece of cake.
3. Ring Toss Yard Games for Adults and Family
The Yard game ring toss set is a standard ring toss set just like any regular one. They are made of wood and can be used indoors and outdoors; as the GoSports set, they come dismantled but can be easily put together. 
This game set includes five rope rings, ten plastic rings in multiple colors, five pegs, and 2 part standing base. 
It comes with a carrying bag for easy transportation and storage, and unlike the GoSports set, they don't have that new foul smell. They are quite expensive and can be gotten at any local store.
4. Olivia and Aiden Ring Toss Game
The Olivia and Aiden ring toss set is just like the Elite set; it has a board and hooks and is best for an indoor ring toss game. 
This set contains 13 hooks, two of which are replaceable; they come in various colors and can be used by four players.
This set is made of wood and is easy to set up. The one downside to this set is that it doesn't come with a carrying bag.
5. FunSparks Ring Toss Game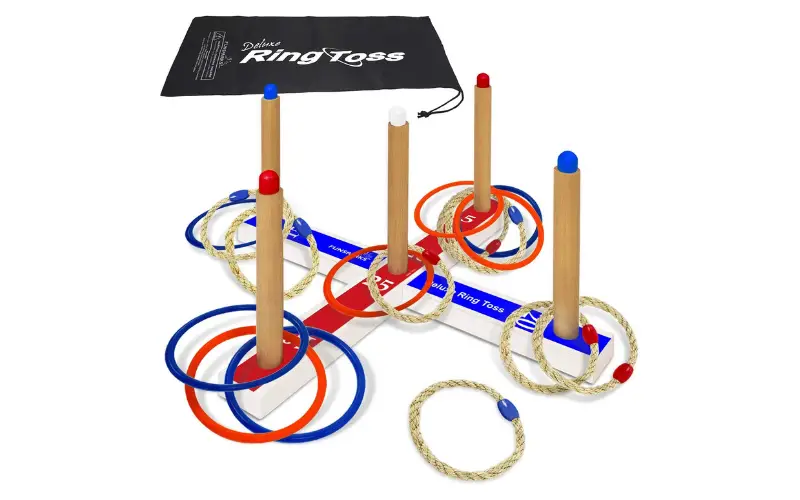 This outdoor set includes eight-strong rope rings, eight plastic rings, and a durable wooden base. It is like the standard classic set and is great for multiple players. In terms of length, width, and height, this set measures 17.44 × 5.67 × 3.9 inches.
Like the others previously mentioned, this set comes dismantled but can be put together easily. It also comes with a carrying bag for transportation and storage.
Related Article: Best Wooden Bocce Ball Set 2021 – Review, Cost, and How to Choose
Factors To Consider When Buying Ring Toss Game
There are some important factors to be noted before purchasing a ring toss set. Any ring toss set that meets all or most of these requirements is a good ring toss set.
1. Components 
A good ring toss set should have the complete components. It should have 4 to 16 rings in total, 2 to 4 stakes, and just one base. Some sets come with additional materials.
2. Material
Most ring toss boards are made of hardwood, which gives it a vintage ad classic look; your rings can be made of plastic or ropes; some sets come with rings made of both materials. 
The stakes can be a wooden stick that is vertically erected on the base or plastic cones. Some sets can be hung to the wall and will contain hooks instead of stakes.
3. Budget
You will want to purchase a ring toss set that fits within your budget. Like the regular outdoor ring toss sets, some sets are cheaper than others, like the indoor wall set. It also comes with additional materials and tends to cost more than others.
4. Additional materials 
Some spring toss sets come with a carrying bag which makes transportation and storage easier; some sets also contain additional materials like additional hooks or come stakes and other rings; these sets are more expensive than the cheaper and regular set as they can be replaced easily.
How To Play Ring Toss Game
Ring toss is not a hard game and is easy to play by both beginners and experts. A game of ring toss can be played by two or more players or two teams.
After the game location Is selected, a coin should be flipped to determine which player or team plays first. 
The player or team that plays first attempts to throw their selected ring at their opponent stake; the players take turns playing until both team and players are out of rings.
The scores are assigned according to how close each ring is to the stake. Five points are awarded to any ringer, 3 points are assigned to any ring touching the stake, and a single point is awarded to any ring 6 inches away from the stake.
An agreed score limit, usually between 50 to 100 points, is set, and whichever team attains the score point or comes close to it wins. You can pick up your rings and continue playing a game of ring toss indoors or outdoors.
Watch this Video To Learn How to Play Ring Toss Game
Ring Toss Game- Frequently Asked Questions
In this section, we will answer some of the frequently asked questions about ring toss.
1. What is a ring toss game? 
Ring toss is a backyard game that is played by throwing rings at stake. The objective of ring toss is to ensure that a ring encircles your stake or gets very close to your stake.
2. Where was ring toss invented?
Ring toss can be dated back to the 5th century; that's right, it is a very old game. Ring toss started to gain popularity in the q8th century. It is mostly played by people in England and the British folks.
3. How do you win the ring toss?
You win a game of ring toss when your ring successfully encircles your stake as many times as possible. When scores are compiled, and you make a score at or close to the score range, you are then declared the winner.
4. Is the ring suitable for kids?
Of course, they are. It is best used by kids six years and above, and for toddlers, a ring toss game may not be a good idea because there may be a risk of choking hazards. Some of the ring toss components are small and may look edible to toddlers; they may attempt to swallow these small components; hence it should be kept far away from them.
5. What size of the ring can be used for a ring toss game?
The size of your ring for a ring toss game depends on the size of your stake. The larger your stake, the larger your ring's diameter; for instance, a small ring won't fit into a large stake. But it is recommended that you use a medium size stake and a medium size ring.
What To Use for a DIY Ring Toss Game?
Not everyone can afford a standard ring toss set this the need for a DIY guide. The materials needed for a DIY ring toss set can be easily found and don't consume a lot of time.
You can consider using wood for the base of your ring toss; soda cans and plastic bottles are other alternatives and can be used as well. As for the rings, and lightweight material with the shape of a ring will do just fine.
Conclusion
Enjoy a nice game of ring toss with our recommended set. Remember always to use the buying guide to pick out the right ring toss set; some come with additional components and carry bags, some are made of different materials, and some cost more depending on the brand, materials, and features.
Ring toss is an easy game that originated in the 5th century, it doesn't involve a lot of rules like some games, and it is pretty straightforward.
For a DIY ring toss set, remember always to make the right size ring that will fit your stake; a medium-sized ring is highly recommended.
You May Also Like:
We trust this article helped you know the Best Ring Toss Game to buy. You may also want to check out: How To Choose The Best Croquet Set?
Thanks for taking the time to read our article, and we hope you find it helpful. Would you mind leaving a comment below if you have any suggestions?
Kindly reach out to people by sharing this post on social media.
If you liked this article, then please follow us on Facebook, Instagram, and Pinterest.