There is a classic touch that a wind chime gives to your outdoor space. It is not just a decorative piece that makes your home beautiful and alluring, but a whimsical and enchanting feeling that is lovely that wind chime gives. 
Adding this wind chime is a way of enhancing your surrounding; however, the string of your wind chime can get broken or tangled in such a way that it cannot produce those beautiful notes that you love.
There is no need to fret; you can fix this little trouble by restringing your wind chime. There are just simple steps to follow, and your wind chime will be fixed.
You can also use many strings to thread your wind chime; come along and let us let you in some of them.
How To Thread A Wind Chime
If you have used your wind chime for a while, it is expected that the weather will take a toll on them and cause the thread to snap even if they are the most stable and durable wind chimes that there are. You do not have to toss them away; all you need to do is restring them.
Materials That You Will Need
High-quality cord or thread

Scissors

A ruler

An upholstery needle or needle-nose tweezers
Procedure

:
1. Before you attempt to thread your wind chime, you should assess the damage to see which strings need to be changed. It is best practice to replace all the strings of your wind chime even if they are not broken so that you won't have to replace another thread any sooner.
2. Remove all the old strings of the wind chime and arrange them accordingly on a flat surface so that you don't get confused while trying to fix it back.
3. Choose high quality, weather-resistant string like a nylon cord or a fishing line and then measure the length of the string you will be using. Remember to add at least an extra 3 inches to the length of the string because you will be knotting the cord or string.
4. Use the upholstery needle or nose tweezers to weave the string through the long tunes of the wind chime.
5. Then tie a knot after you have strung any part of the wind chime. Ensure that that the knot is strong and will not come off at the slightest pressure. You can add a touch of glue to the knit to ensure that the knot doesn't come undone.
6. You should test the strength of the new thread and knot by giving them a ring using a tapping girl; this is to ensure that the wind chime will stand and chime well when it is hung back in its place. If it doesn't sound like it should, then you will have to restring the wind chime.
7. Restring all the other wind chime parts and then hang it back to its position.
Recommended: How To String a Wind Chime
Buying A Wind Chime Thread/String
When you go shopping for the string to use for your wind chime, there are different things you have to factor in if you are to buy the best string for the job. These points you have to consider include:
1. Durability
Your wind chime will be exposed to the elements, so the mist is sturdy enough to withstand them. It must be strong enough to tie the different parts of the chime together. 
Different strings made of denim, heavy-duty nylons, and polyester are good strings for wind chimes because they are durable; some of them are even painted to keep them more sturdy.
2. Thickness and length 
You should buy a thread or string that is long enough to get the job done; this means that you should have a fair idea of the length of the string you will need even before going shopping. 
The string should also be thick enough to hold the weight of the wind chime that it holds.
3. Smoothness and flexibility: 
The thread you use for your wind chime must be smooth so that you can easily weave them into the tubes and other parts f the chime. 
They should also be flexible so that they are easy to manoeuvre, yet they should be strong enough to make a long-lasting knot.
4. Weight: 
Even though you want a sturdy string for your wind chime, you do not want too heavy a string that will be difficult to handle. 
Light strings are better because they are easier to handle. It must not be too light that it breaks at the weight f the other parts of the wind chime. So the best option is a string that is lightweight and yet very strong and tough.
Types of strings
Two main types of material are used as strings for individuals chime, and they are:
1) Nylon (fishing) Line
Fishing lines are versatile and are used for many things, including stringing wind chime. They are great for wind chime because they are simple to work with, but they are also solid and lightweight.
They are made of nylon and are translucent, and can easily be tied into knots. There are different brands, weights and colours of these strings that are available.
2) Waxed and Braided Polyester Cord:
These are cotton materials or polyester that are used as cords for stringing wind chimes. A coat of wax is applied to them to make these strings last longer, making them waterproof. They too come in different lengths, weights and brands.
The Best Thread For Stringing Your Wind Chime
Here are some of the best threads available that you can use for stringing your wind chime:
1. Davos Premium Extra Strong Braided Cord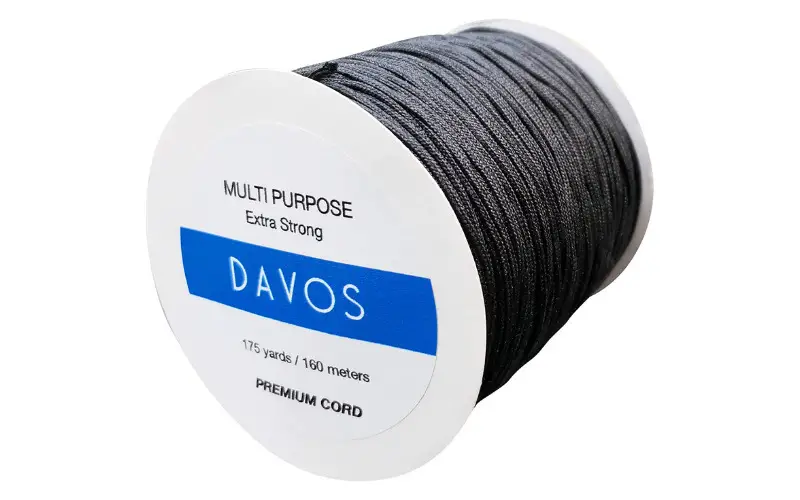 This thread is made from nylon and is multifunctional because it is used in stringing wind chimes and making different pieces of jewellery and other art and costume designs.
This string has very high tensile strength, and yet it is lightweight. It is very flexible and easy to work with, especially as it is easy to make a knot and strong knots.
People love this string because it is versatile and sturdy and do not easily wear out or fade; neither do they stretch nor break easily.
It is a bit pricey and might be too thin to be used on very big wind chimes, except they are double to increase their thickness.
2. Mandala Crafts Cotton Cord Thread
This cord is made of braided cotton that is waxed to increase its longevity. It is a very strong, non-sticky and portable cord that offers good value for money.
This string is pliable and easy to work with, yet it is rigid enough to tie and retain knots. Beeswax can be added to it to increase its strength and if you want it to be slippery.
They are equally versatile because they are used in stitching, weaving and the likes. Some of its many advantages include the fact that they are weather-resistant and waterproof, come in bright colours and do not have any chemical odour.
One of its major snags is that they do not melt easily and can tangle easily.
3. Amazing Drapery Hardware Lift Cord
One of the main reasons why many people love this string is because they are UV resistant. They are very durable come in many bright colours too.
They do not stretch, which makes them an ideal option for stringing wind chimes, and they are also easy to work with.
4. Beadaholique SLBC-BK BeadSmith Super-Lon Twisted Cord
This string which is made of nylon, is flexible, simple to work with and quite strong. They are also durable and are quite versatile, and are weather-resistant too.
They are versatile and are used by jewellers and for making stitches too. They are very thin and so is best used for small projects. 
One of its main selling points is that they are Budget-friendly and do not fade easily even when exposed to the elements.
This cord is great for stringing wind chimes even though there are complaints that they are too thin and that they are a little bit slippery.
5. Mandala Crafts Waxed Cotton Cord Rope 
If you are looking for a wind chime string that is waterproof, then the Mandala Crafts Waxed Cotton Cord Rope is your best option. They do not decompose easily, so you do not have to worry about the string snapping suddenly and damaging your wind chime.
They are manoeuvrable and yet rigid enough to tie and retain knots. They are slightly waxed but do not stick nor leave any stain when touched.
These very versatile strings are watertight and easy to pull through, they are not as long as some other strings, and some say it has a smell.
Conclusion: How To Thread Wind Chimes
Wind chimes are lovely decor and an instrument played by the wind, which many people love. However, as you use them, the thread might wear out and break, which means you will have to restring them.
Restringing your wind chime is quite easy and does not require an expert to do the job. There are simple steps that you will follow in fixing the wind chime.
So go ahead and get a good thread from the wide array of threads used to fix your wind chime, only to ensure that you get the most suitable string for the job.
You May Also Like:
How Long Can You Leave Water in an Inflatable Pool
We trust this article helped you learn how to thread wind chimes. You may also want to check out: How To String a Wind Chime.
Thanks for taking the time to read our article, and we hope you find it helpful. Would you mind leaving a comment below if you have any suggestions?
Kindly reach out to people by sharing this post on social media.
If you liked this article, then please follow us on Facebook, Instagram, and Pinterest.