When winter arrives and the snowfall begins, you must keep your driveways clear of frost to ensure your safety.
While shovels are used to clear some snow, they are ineffective and can take a long time, especially if you remove a large area. Here's where a snowblower comes in handy.
A snowblower is not only efficient, but it also assists the user in completing their tasks promptly.
A snowblower moves the snow by using an impeller to guide it. Electric, gas, or diesel motors are commonly used to power these vehicles.
A drill or impeller is used to blow away the snow to another location or into a truck, where it will be removed a few hours later.
A snowblower that is compatible with the rock surface and the tranquility of winter should be chosen. For your snowblower to work well on a gravel driveway, you must first select the right snowblower.
In this case, a two-stage snowblower or a three-stage snowblower would be the best choice.
Things to Note Down Before Getting a Snowblower for Your Gravel Driveway
Finding the perfect snowblower for your gravel driveway can seem like a daunting task. With so many variables to consider, it's easy to feel overwhelmed by information.
There are essential factors to consider, like the weight, the types, the engine, the dimensions, and the intake height, but here are five other factors to consider when buying a snowblower.
5 Factors to Consider When Buying Snow Blower for Gravel Driveway
1. Path Size
How much space will you need to clear from the driveway?
Snowblowers with single-stage power are recommended for homeowners with clearing widths between 18 and 22 inches.
You will also be able to maneuver your single-stage snow blower on decks and small walkways easier, as it fits into smaller spaces.
If your driveway is large and has multiple cars, a two-stage or three-stage snowblower would be best.
You can clear wider paths more quickly with these snowblowers, ranging from 24 to 48 inches wide.
In areas with hilly or varied terrain, two-stage and three-stage snow blowers are best suited because they are equipped with more robust engines, enhancing performance.
2. Gravel or Pavement
Do you have a paved or gravel driveway?
Avoid snowblowers with single-stage power if the answer is gravel.
Since rubber paddles are designed to touch the ground with a single-stage snowblower, rocks and other loose objects can be thrown, harming people and damaging nearby property.
Buying a snowblower with two or three stages would be better since the machines' height can be adjusted to avoid projectiles or injuries when passing over gravel.
Any snowblower with multiple stages will be fine if your driveway is paved.
It all depends on personal preference. A two-or three-stage snowblower will be ideal if you want a larger machine with greater power.
Single-stage snowblowers that work on pavement also outperform larger, multiple-stage snowblowers when clearing snow near the ground.
3. Amount and Type of Snow
In terms of snowblowers, a bigger engine may not necessarily be the most critical factor, but it can certainly improve results when it comes to heavy-duty cleaning.
Snowblowers with two stages and three stages usually have more powerful engines than their single-stage counterparts, which is important when dealing with heavy or wet snow.
In addition, their higher clearing heights allow them to cut through deep snow that would otherwise be too deep for smaller, single-stage snowblowers.
Buying a snowblower with a single stage of power would be adequate if your snow is light, powdery or your snow accumulation is less than six inches.
4. Maneuverability
You should be able to maneuver your snowblower no matter where you live.
A two-stage or three-stage snow blower is usually self-propelled and makes pushing them easier.
Although single-stage snowblowers are not self-propelled, they are maneuvered easily by pulling their rubber paddles. The paddles or scraper bar on your single-stage snowblower may need replacement if it doesn't pull itself forward.
Also, they are smaller and lighter, as opposed to larger three-stage and two-stage snow blowers.
5. Noise
Snowblowers can be tricky to use in residential areas, especially early in the morning when neighbors are still asleep.
What to do: Consider buying a snowblower that operates on electricity.
This type of snowblower uses no gas engine, so it is much quieter and smaller than petrol-powered models.
Electric snowblowers also don't require much maintenance, but they are designed to handle much lighter snowfall than gas-powered models.
The Best Snow Blower for Gravel Driveway
You'll probably need a gas-powered snowblower with a raised scoop for rock.
It can also be used in conjunction with skis or snowshoes that are entirely flexible for more excellent utility.
They consider the possibility of getting snow, ice, and slush, but no stones and no rocks from the start.
Even though we don't care if you choose a two-stage or three-stage snow blower, there are some essential differences between the two that we think you should be aware of before making a purchase decision.
Types of Snow Blowers for Gravel Driveway
1. The Troy-Bilt Vortex 2690 snowblower
The Troy-Bilt Vortex 2690 snow hurler can be described in one word: excellent.
For the most densely populated areas, this item can clear away thick accumulations of snow effectively.
Three-stage development allows it to traverse snowy regions throughout the year, which is why it can weigh up to 283 pounds when it is fully loaded up. As long as it does the job, it shouldn't be a problem.
Pros
Its clearing width is relatively large
It has an easy and simple control
Cons
It is powered by gas.
It would help if you were financially buoyant to own one.
2. Husqvarna ST224 Sow blowers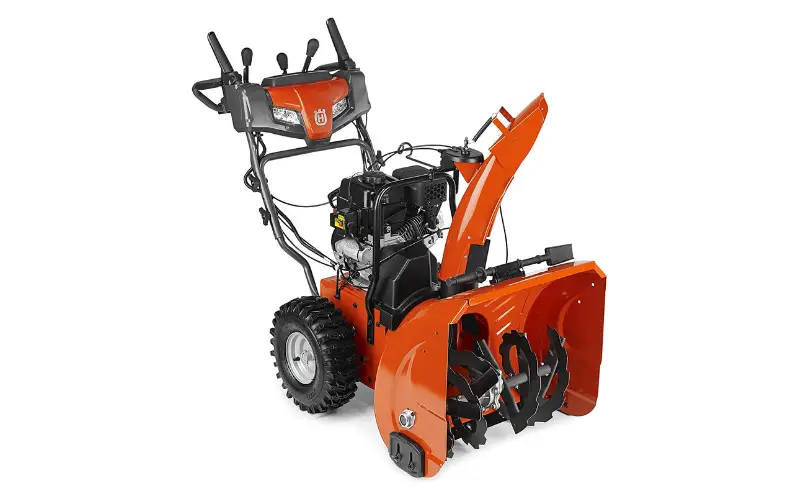 On our list, we have the Husqvarna ST224, which shares so many similarities with the Ariens 920021, except that it has LED headlamps.
With a 15-inch tire, it's easy to travel, but it's not as rugged as the Ariens or troy blits, so it may struggle when faced with a specific amount of snow or a tired and bumpy climate.
With its high-limit tossing system, you can move snow as far as possible from where you don't want it.
LED headlamps to allow you to use the device in low-light or dark areas depending on how dim it is.
Pros
It has adjustable handles,
Low light conditions are never a problem with the two-stage snowblower.
Cons
This snowblower can be expensive
3. YARDMAX YB6770 Two-Stage Snow Blower
When it came to this two-stage snow blower from YARDMAX, it went above and beyond expectations. It had heated handgrips, headlights, and a cup holder.
Pros:
Extra-wide mouth
Useful highlights of solace
For a wide variety of snow conditions
Cons:
Requirements are gathered together
There are metal "shoes."
4. The PowerSmart Snow Blower PSSAM24 
This is a two-stage snow blower with fully adjustable metal snowshoes that keep the mouth of the machine up and away from rocks, pebbles, gravel, and chunks of ice and frozen dirt along the paths you clear of snow.
Pros:
Unparalleled self-propelling
The snow shovel is 24 inches wide and has metal shoes.
Cons:
There is no extended warranty.
5. Ariens Classic Two-stage Snowblower
No matter if you're dealing with tall snowbanks or dangerous terrain, this snow blower will get the job done quickly and efficiently.
Pros:
It can handle snowbanks that are higher than it.
For steep carports, this is extraordinary
Assured for a long time
Cons:
Turning is difficult
There is a weakness in the front light
Importance of a Snow Blower for Gravel Driveway
Snowblowers are helpful to anyone stating in a snowy climate.
They are a great way to remove snow from our backyard.
It saves your concrete and driveways because utilizing chemical substances or salt can leave residue and trigger the floor to chip away, ultimately damaging your concrete. Nonetheless, you would not be without choices.
The ease of use is usually the last thing to consider after evaluating all the conventional options. After all, snow blowers aren't typically associated with solace.
However, with today's products, including features such as speed control, an electric starting option, and even heated handles, doing business has never been easier!
Conclusion
Ultimately, we can say that a snowblower on rock can be dangerous, but it can be done safely and effectively with practice, persistence, and the right equipment.
Always keep in mind that your snowblower must have two essential things to function correctly on the rock.
These snowblowers and pallets are perfect for the job. We hope that all your questions have been answered and that your decision has been simplified with this article. I wish you the best of luck!
You May Also Like:
We hope this article helped you determine the Best Snow Blower for Gravel Driveway. You may also want to bookmark our reviews on Ryobi Snow Blower vs Ego Snow Blower Reviews.
I will love to hear from you if you have any other suggestions on Snow Blower for Gravel Driveway. All you have to do is comment below. Kindly reach out to people by sharing this post on social media.
If you liked this article, then please follow us on Facebook, Instagram and Pinterest.