Tree stumps are a nuisance, waste of valuable space, and dangerous, especially if you have kids, but it doesn't always have to be like this.
An alternative to getting rid of a tree stump is to use it in other creative ways that can be an item of decoration. These ideas can be brought to life by a professional or done as DIY projects.
Here are 30 tree stump ideas to put your fallen trees to use. Ideas have been provided for single and multiple stumps and small and large stumps.
30 Tree Stump Ideas to Put Your Fallen Trees to Good Use
Ideas in this category are best if you have at least one stump in your yard and you need a way to repurpose it for your backyard decorative designs.
READ: Best Guide to Keep a Tree Stump for Indoor and Outdoor Use
1. Wooden Adventure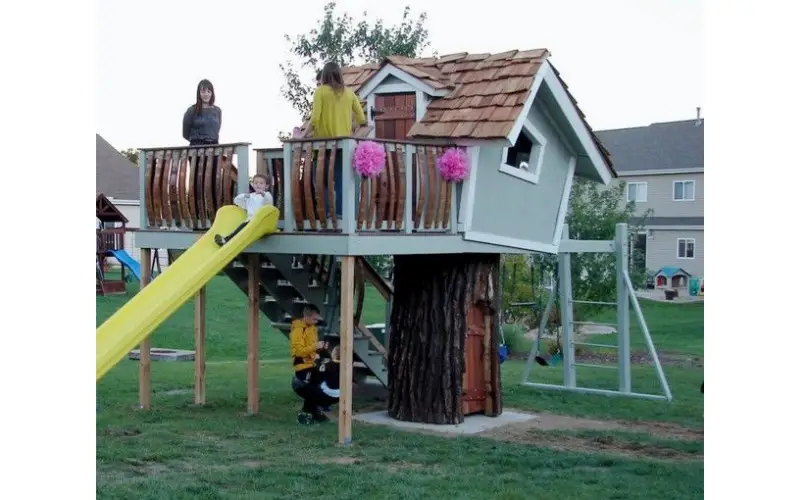 If you have a tall enough tree stump and do not intend to use it for landscaping, you can refurbish it into a slide set for your kids. You can use wooden bars to make a protective fence at the top and a little climbing wall to help kids get up the stump.
2. Decor Holder For Tables
If you have a really small stump, you can take it out of the ground, clean it properly and keep it on your table as a decor holder. You can decorate the bottom of the stump with flower vines or pair it up with antique materials.
3. Natural Planter
A tree stump with fresh vines running around it can look nice. You can plant colorful flowers on top and then allow them to grow. It is easy to bring this idea to life and maintain this combination.
4. Planter For Succulents
Do you have succulents and have no idea what to do with them? Well, you can pair them up with a tree stump; since these plants do not require frequent watering, it makes your job easier. 
5. Stump Mushroom
Are you looking for a more challenging DIY project involving a tree stump? This process requires you to modify your tree stump entirely to resemble a giant mushroom; some paint will be involved to give it a colorful or realistic look.
6. Animal Friend
Get the perfect animal atmosphere with an owl, or any other bird carved out of a tree stump. This may look daunting, but it is fun; if you get into it, you will be working with sharp tools, so be careful and follow safety precautions.
7. Glowing Fairy Home
Make your kids' dreams come true by creating a magical atmosphere in your yard. With some carving skills, you can make a fairy house with a little light bulb attached inside to give it a warm glow at night.
8. Refurnished Tree Stump
If you do not wish to cut off your tree stump, you can remodel it into a sitting set. For this, you will need some attachments supporting flat and wide material. You can pair this up with two chairs that have a similar color to the tree stump.
9. Side Tables
A tree stump will do just fine if your living room or bedroom needs a small side table. You can paint and add other designs to a tree stump to match your existing theme. Using tree stumps as side tables helps you to save a considerable amount of money.
10. Stump Christmas Tree
A tree stump can be used as the base of a Christmas tree. If you are using a synthetic Christmas tree, you can stand the tree on the stump, this makes your tree a bit higher, and the tree stump adds to the festive looks of your house.
11. Pumpkin Support
For Halloween, you can get creative about where you keep your pumpkins. A well-lit scary pumpkin can be kept at the top of the stump to deliver a scare to whoever walks by. However, you may want to consider using the tree stump for something else after Halloween.
12. Vase Holders
If you have a tall tree stump, install attachments to support multiple potted plants containing flowers. You can make this a DIY project as it requires little. You can find the required materials in any local store near you.
13. Body and hair care holders in bathrooms
You can use a tree stump if you do not have a small side table to stand by your tub and hold your basics. You can paint the tree stump to whatever design you like and place it by the side of your tub. This stump can hold your shampoos, body wash, and maybe your phone. You can add a jar flower pot to further occupy the stump.
14. Tree Stump Tub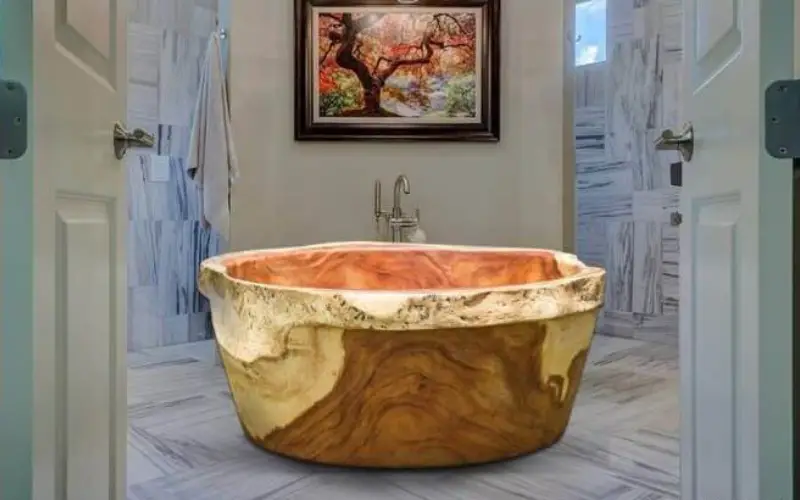 If you have a large tree stump, you can remodel it to become a tub for your bathroom. This project will require some great woodwork skills and some creativity. You can always contact a professional to assist you if you want this.
15.  Mother Nature
You can carve out a woman's face on a tall tree stump and repurpose it with some green and brown materials to form the perfect Mother Nature figure. Before carving, you can start by making the stump look like an inverted V.
16. Stump Playhouse
If you have an extra-large tree stump, you can refurbish it into a small playhouse for your toddlers. You will need to roof the stump, create some windows, and ensure that the inside is safe. You can also add other designs like mini white picket fences and some colorful flowers.
17. Birdhouse On A Stump
You can accommodate birds with a mini birdhouse sitting on a tree stump. The birdhouse can be carved out of any wood you have available, or it can be made with other materials. It should include a free opening for birds to exit or enter easily.
18. Multiple Tree Stump Ideas
Ideas in this category are made for individuals who possess multiple tree stumps and would like to utilize them creatively.
19. Lovely Candlelit Tree Stumps
Love is in the air with this tree stump decor involving lots of candles. You can surround the tree stumps with fairy lights, keep some scented candles on top, and maybe you can add a LED word standee to light the place up.
20. Tree Stumps For Aisle
Using a tree stump is a magnificent way to add more beauty to a wedding ceremony. At the end of each seating column, tree stumps should be aligned equally to hold potted plants or candles. The tree stumps can be arranged on either side if there are two rows of chairs.
21. Tree Stump Garden Pathway
You can line up a small tree stump on the path to your garden. These tree stumps can be lined on either side of the path, and behind the tree stump can be flowers or green plants to bring out the features more. If you have a large tree stump, you can chop it into small cylindrical pieces for this pathway design.
22. Backyard Stamp Set
You can have a table and tree stumps to serve as chairs. You can customize your tree stumps to match your table in color and design. You will need a minimum of four tree stumps for this design.
23. Firepit Stamp Set
You can arrange tree stumps to surround a fire pit for quality time with family and friends. Get warm in cold weather by sitting on nature's seat. The number of stumps required depends on the fire pit size. A large fire pit will require more stumps, while a small fire pit will require fewer tree stumps.
24. Halloween Monsters
For a good scare, you can paint tree stumps and draw scary faces on them. This idea brings out your artistic side. If you are in for this project, jump in with spray paints, paint, and paintbrushes.
25. Stumpy Snowmen
Using your carving and woodwork skills, you can create some snowmen for your winter yard. You can wrap them up with scarves to complete their look. This idea is also a chance to have fun with the kids by making something new.
26. Light Stand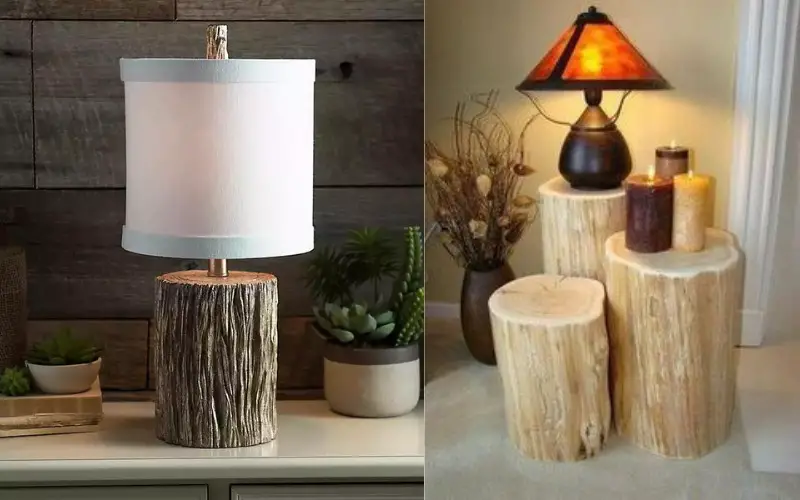 You can arrange multiple tree stumps in different areas of your yard and use them as a light stand. Use glue to attach solar lights to the entire tree stumps. You can decorate the stumps with some antique materials. 
Conclusion
If you ever consider throwing away your tree stump, here are 30 tree stump ideas to put your fallen trees to use. These ideas cover small and large stumps for interior decorations like side tables and exterior ones like a backyard setting.
Suggestions have also been given for single and multiple tree stumps. These ideas can be used for festive seasons like Christmas and Halloween and to create playhouses and other decors for your kids.
Helpful Links:
We trust this article helped you discover the 26 tree stump ideas to put your fallen trees to good use. You may also want to check out These 25 Awesome Backyard Landscaping Ideas on a Budget to Refashion Your Yard.
Thanks for taking the time to read our article, and we hope you find it helpful. Would you mind leaving a comment below if you have any suggestions?
Kindly reach out to people by sharing this post on social media.
If you liked this article, then please follow us on Facebook, Instagram, and Pinterest.