Treehouses do not always have to look the same. Every child dreams of a treehouse, and having one that is beautifully made is not just wonderful but a dream come true.
There are different types of treehouses. Some are built for both children and adults, and some are built for a sleepover or a fun playtime.
Here are 25 coolest tree house ideas you can build yourself. These ideas cover both big and small plans, and they explore creativity in various ways. The best part is that the treehouse you choose is based entirely on your preference.
25 Coolest Treehouse Ideas You Can Build Yourself
These ideas are suitable for big and small tree houses, and they take different times to compete as a DIY Project.
1. Open And Simple Treehouse
Building a treehouse should not be very complex. This idea involves building a treehouse not very high and close to the ground. A small ladder should be installed to help kids get into the treehouse. This treehouse is best for toddlers as it is not very high.
2. Add Cushions
This small and simple tree house features cushions on the floor, soft and bright paint, and a height not too far from the ground. This treehouse is great for the relaxation of one person, and depending on the size, a child or adult can use it.
3. Add a Rope Swing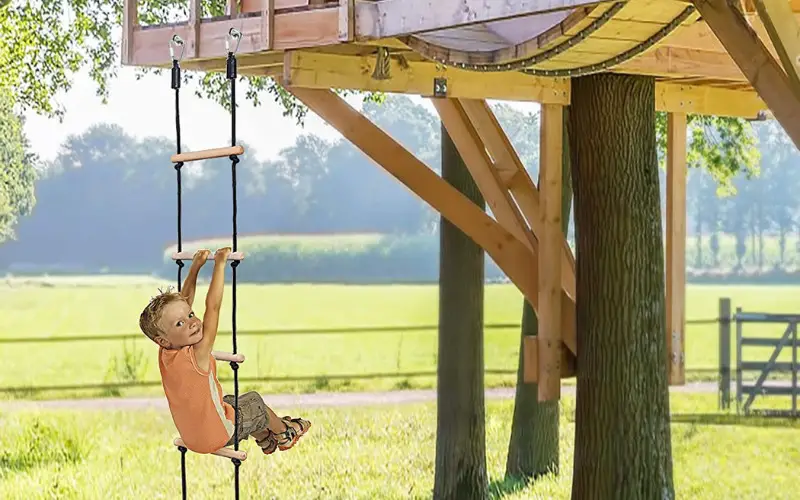 Just close to the treehouse, on braces attached to the tree, you can hang a rope swing with a tire attached to the other end. The swing may be used to complete the treehouse and some flowers for decoration.
4. Wrap-around Porch
You can build a treehouse with a porch that extends to the back of the treehouse. This porch is great for relaxing with some fresh air and having a great view of the outdoor area. Flowers and potted plants can be used to decorate the porch of the treehouse.
5. Fairytale Vibes
A tree that looks like something from an enchanted movie or book is a great way to keep your child's imagination running. A dual-color theme should do fine, along with some vines to keep the magical feeling.
6. Add Some Fairy Lights
Surely one cannot have too much lighting. Keep your treehouse illuminated and beautiful with fairy lights or string lights hanging around the treehouse and the surrounding environment; this is very easy to install and should take little or no time.
7. Castle Fever
Give your treehouse some historical feeling by building it with top frames similar to the structure of a castle. You can also hang lights outside the surrounding area and some colorful flowers and lush grasses.
8. Link the Treehouse to the Pool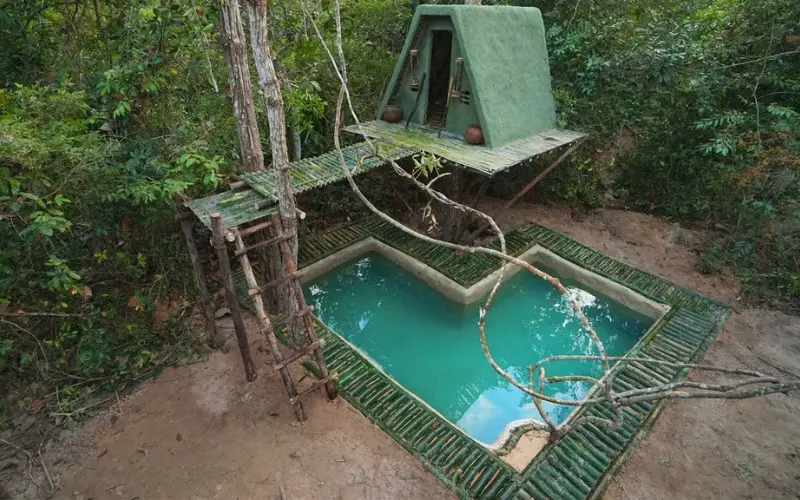 If you consider building a treehouse, you can build it close to a pool where your kids can easily transition from playing indoors to having a nice swim. You can install a slide that links the treehouse to the pool to add to the fun.
9. Treehouse With a Sandbox
Keep your ideas multifaceted with this treehouse with a sandbox just below it. This tree can be small or large, but its size determines the size of the sandbox. This treehouse is great for toddlers and young children.
10. Simple Treehouse
You can construct an open tree house with only a base and without sides and a roof for a very simple layout. This treehouse is great for relaxing under the tree shade. 
All you need to do is install a ladder for easy access. If you want a treehouse idea suitable for both kids and adults, consider this.
11. A Great View
If you have a spot in your yard where you have a great view of the sunset or sunrise or perhaps a great view of trees, you can build your treehouse in that spot; you can soak up all the peaceful feelings.
12. Two Is Better Than One
You can bring the fun level to a maximum by linking two tree houses with a suspension rope bridge. This idea is perfect for your kids as it gives them enough space to play in the treehouse.
13. Make it a Gazebo
Who says all tree houses have to be the same shape. Get creative and build a tree gazebo that overlooks every corner of your yard. This construction is good for fresh air and easy access; it is also suitable for bigger kids.
14. Cabin Hideout
This treehouse idea is not above the ground and is similar to a fort. It is built with logs of wood and has an open space for fresh air; you can throw in some blankets for a cozy feeling. This treehouse is suitable for both kids and adults.
15. Split-level Treehouse
You can make a two-level tree house where one is higher and has a ladder that leads to the lower and smaller treehouse. This idea is usually for an open treehouse without a roof and can be decorated with other accessories.
16. Zipline Fun
After building your treehouse, you can install a zip line connecting two trees that can be used to increase the fun time. This zip line should not be too high for kids to prevent a possible fall.
17. Add a Tree Swing
 You can install a swing below the treehouse for more relaxation; this swing should have two chains or ropes for proper usage. It can be installed below the treehouse or in an area close to the treehouse.
18. Treehouse Dome
You can shop for a dome-shaped construction and hang it on trees for your kids to enjoy. This is not your regular tree house plan, as a wooden base and ladder are built for easy access to this floating dome. You can check out the idea here.
19. Advanced Treehouse
This treehouse may take some time to build and require serious planning; this is the perfect DIY project for homeowners looking for a challenging task. This treehouse is just like a full home constructed on a tree; the only difference is that this is smaller.
20. Treehouse With Climbing Wall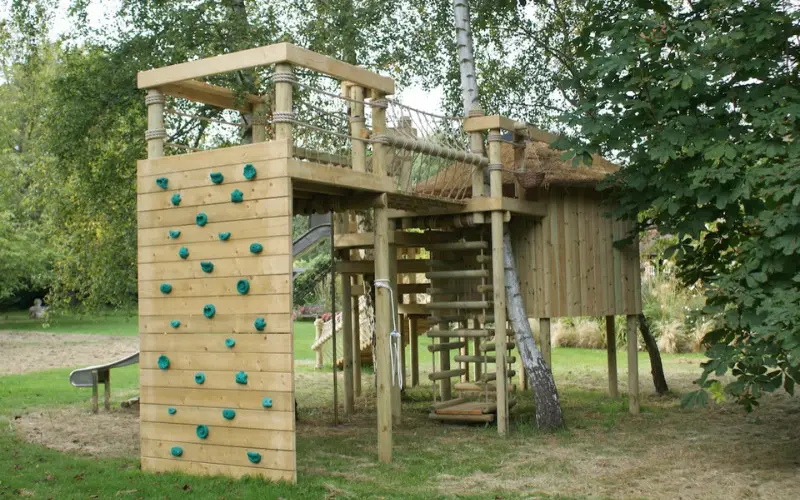 You can build a climbing wall on one side of your treehouse for more interesting access to the main treehouse; this idea is great because it is great for exercise. The height of the climbing wall depends on the height of the treehouse above the ground.
21. Monkey Bars Under The Treehouse
Another way to add more fun to a treehouse is by installing monkey bars under the treehouse. This is suitable for a treehouse that is a reasonable distance above the ground. This gives your kids a great opportunity to work on their ninja moves and exercise.
22. Netting
You can make the treehouse look similar to an obstacle course by replacing the ladders with durable nets so that climbing up the treehouse will be a little challenging. This is a great way for kids to burn out some energy outdoors; it is quite a different idea when it comes to treehouses.
23. Net Floor
Onward with more netting ideas, you can replace the entire floor of your wooden treehouse with nets. This can be a fun experience for kids as it may be daring to walk on the nets. Before going forward with this idea, ensure that your net has the right size of holes that matches the size of your Child's feet.
24. Stairs
It is normal for most tree houses to have a ladder but quite rare for them to have stairs. If you have a treehouse situated at a great height, you should consider building stairs with handrails. This is a whole new look, but it also guarantees the safety of our kids when going up and down the treehouse.
Floor door
Making a door on the floor is a new entry method that may be worth trying. Instead of the usual ladder leading to an opening on the treehouse, you have a ladder just below the treehouse that leads to a door on the base. You can add a fireman pole to make coming down easier.
Conclusion
Treehouses can be fun for the whole family; with some creative ideas, you can remodel or build a special kind of treehouse. 
We have briefly explained 25 stunning tree house ideas you can build yourself; these ideas include creative features suitable for big and small tree houses and those that are great for even toddlers.
These ideas also come with a specialized theme to match your kid's style. Building a treehouse may range from $500 to $2500 depending on the style chosen, and a well-built tree house can last as long as 20 to 25 years.
Helpful Links:
We trust this article helped you discover the 25 Coolest Treehouse Ideas You Can Build Yourself. You may also want to check out These 25 Awesome Backyard Landscaping Ideas on a Budget to Refashion Your Yard.
Thanks for taking the time to read our article, and we hope you find it helpful. Would you mind leaving a comment below if you have any suggestions?
Kindly reach out to people by sharing this post on social media.
If you liked this article, then please follow us on Facebook, Instagram, and Pinterest.