Landscaping means improving the appearance of your garden or land by redecoration or carrying out a series of changes on the land. Landscaping is the best way to turn a boring backyard into a place with a great view and fresh air.
Landscaping doesn't always have to be expensive, and it can be done for both small and large yards. All you need to do is get creative.
Here are 25 backyard landscaping ideas on a budget to refashion your yard. We have provided ideas that meet the need of both big and small yards, and you can carry out this project on your own.
25 Awesome Backyard Landscaping Ideas
Here are 25 landscaping ideas to redecorate your yard on a budget.
1. Small Outdoor Dinner Space
If you have a very small yard, drop in some flower pots, hang some vines on the wall and add some antique materials to the other decors.
This design is ideal for people who enjoy staying around flowers and plants. You can install interlocks on the floor or use small pebbles for a complete look.
2. Classy Outdoor Space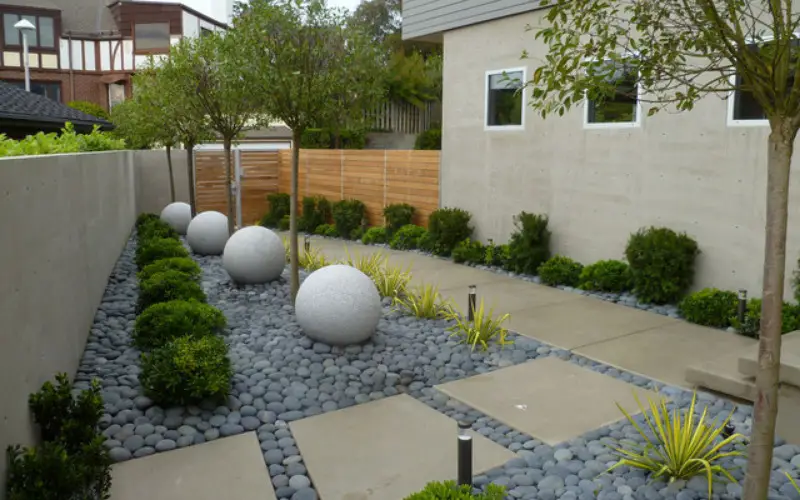 If you want a small but sophisticated yard, this layout is just for you. Install some interlock tiles on the ground and fill some spaces with small pebbles. A few potted plants will complement the decoration and a short wooden bench.
3. Walkways
This design gives you an enchanted or magical sensation that feels like something outside the movies. Stone walkways can be installed in your garden and are surrounded by flowers and beach pebbles; you can also add some shade to complete this walkway look.
4. Spread Some Mulch
This idea may sound unusual, but it is great. It goes well with your flowers, but it also prevents weeds from growing around your yard. It also captures moisture and adds more nutrients to the soil. This is an affordable way to redecorate your outside space; you need to get crafty.
5. Raised Your Garden Bed
A raised garden bed consists of your plant being supported on a wood, blocks, or bricks platform. It improves the appearance of your yard by making your plants more organized.
It also prevents soil compaction, prevents the growth of weeds, and stops the invasion of pests. This raised garden looks better when there are more around your yard.
6. Lights Up
Hanging bulb lights or fairy lights in your yard is another way to go when redecorating your yard. Lights have been a big trend recently, and it is worth the hype; it makes your yard feel magical, especially at night when they are given a chance to glow.
You can chill out in a yard with lights, get some fresh air, or even have dinner. You can have these lights wrapped around trees if you want.
7. Window Flower Boxes
Adding boxes to your window and then flowers are a great way to add color to your yard. This method helps to cover up any damage on the window, and the best part is that it can be done easily. You can choose to build a box and hang it or buy the box.
8. Edging
Sometimes the simplest improvements can make a huge difference. Start with maintaining your lawn by using an edger to keep the grasses in order.
You can also use building materials like bricks, metal, logs, or wood to organize materials in your lawn, this upgrade usually costs between $70 to $1700, but if you are creative, you can do a lot with a budget.
9. Beach Pebbles
Beach pebbles can be used for various decorating purposes, and knowing how to use them can significantly improve your yard.
These pebbles can be used with walkways, interlocks, and any open space. You are given the option to choose from various sizes; this allows you to explore other ideas.
10. Pathway Lighting
There are different designs of the lighting that come in various sizes and can be used to light up your pathway. This is an affordable way to redecorate your surroundings, and it can be paired with a stone or interlocked pathway that has some beach pebbles. Some of these lights use solar power, and they automatically turn on at night, so you don't have to stress about using them.
11. Birdbath
A birdbath is an outdoor piece that invites more birds to your yard. It is made of ceramic, metal, and plastic. The bottom of this structure is the support that secures the shallow round bath at the top for birds; having this in more than one place will not hurt, and it will invite a lot of birds if you are in for it.
12. Antique Bench
Antique materials are the trend these days. Get yourself two or more antique benches and place them in different locations, you will see the improvement to your yard, and you can also relax on this bench during your free time.
13. Fire Pit or Chimenea Outdoor Space
You can have a dining table, some chairs, a fire pit or chimenea, and some lights in an outdoor space. Keeping your yard filled with some of this furniture and materials makes it looks attractive compared to an empty yard. You need to be aware of the proper placement of these components and other materials that adds to the design.
14. Rock Garden
This garden consists of rocks and boulders of different sizes, shapes, and colors. When purchasing these rocks, you are given a palette to choose your desired colors, and you can go for whatever size you want. A rock garden is eye-catching, and you can install the rocks and boulders yourself after purchasing them.
15. Repurpose Items as Planters
This is a great way to reuse items that you do not need. If you have a tub, wheelbarrow, piano, or even an old barrel, you can decorate it with flowers and plants and keep it in your yard. This idea saves you a lot of money as all you need to purchase may be some flower seeds.
16. Perennials
Flowers in this category are not new to anyone. Plant various perennial flowers like daisies, tulips, asters, hydrangeas, lavender, and coneflowers in your yard to add some color, you need to buy some flower seeds, and the cost of this should be between $10 to $35.
17. Hide your AC Unit
The ac unit behind your house can be an eyesore that needs a cover. You can build a wooden box to fit over it, and under this box, there can be neatly trimmed grass or some beach pebbles. You can purchase this box if you cannot build one.
18. DIY Water Feature
A birdbath is not the only water feature that can sit in your yard; a homemade water fountain is another great idea for backyard decor. Your creative ideas can come to life with a fountain pump, and you can have an ideal water fountain in your yard. Check out this DIY teapot fountain in-home talk.
19. Garden Hose House
The smallest improvements can make a difference. Your garden hose lying around your yard can make the environment look messy, but this can all change if you get a small box for your hose. The top of this box can be decorated with flowers to give it a nice colorful touch.
20. Use a Retainer
A retainer is a series of small blocks or bricks arranged to a certain height to keep your plants in place. Retainers are known for their defining quality, making your plants more noticeable and organized.
21. Get a Garden Island
You can create your island in your garden. Pick a spot on your lawn, clear the grasses around that area, and plant various colorful flowers. You can use edging to further decorate your island. You are allowed to plant a mini tree on this island.
22. Go Green
This idea is a long-term plan that requires you to plant many trees in your yard. This gives your yard a natural feel, and you can pair the trees up with colorful flowers to complete the setup. You can make a pathway around the path of your trees to make them look organized.
23. Wooden Pathways
Like stone and interlock pathways, you can create a path linking several places but with logs or wood. This idea is brilliant and will greatly stand out; you can plant some flowers at the sides of the pathway to keep the area occupied.
24. Flowers Around your Mailbox
Your mailbox can be sitting at the front of your yard alone without company. Fortunately, you can fix that by planting some flowers at the foot of the mailbox. This makes the surrounding area colorful and beautiful.
25. An outdoor pool
Believe it or not, above ground pool can be a great redecorating idea; you need to know where to position it. It looks good in your yard, but it can also be used to cool off during a warm day. If you get a size big enough, you can enjoy it with friends.
Read Also: 10 Backyard Awning Ideas Attached to House
Conclusion
Redecorating your yard doesn't have to be hard, and you don't always have to spend a lot of money to do it; sometimes, the smallest things can make a big difference.
We have briefly explained 25 backyard landscaping ideas on a budget to refashion your yard, and you can take on some of these ideas as a DIY project.
You can add some lighting, flowers, beach pebbles, walkways, rocks, and water features to your yard. Some of these projects may require getting your hand dirty, and if you do not want that, you can make a purchase instead of building or contact a professional.
We trust this article helped you learn more about Awesome Backyard Landscaping Ideas. You may also want to check out How to Keep patio umbrella from spinning.
Thanks for taking the time to read our article, and we hope you find it helpful. Would you mind leaving a comment below if you have any suggestions?
Kindly reach out to people by sharing this post on social media.
If you liked this article, then please follow us on Facebook, Instagram, and Pinterest.