Outdoor areas such as a backyard can be an excellent place for relaxation, especially when they have a good shade that protects your skin from direct sunlight that may lead to sunburns; you would like that right.
Whether you would like to read or rest while sipping a cocktail, having a lovely shade in your backyard will help to give you a pleasant experience.
We have this innate desire to enjoy the outdoor weather, especially on a sunny day, and enjoy warm outside weather once in a while.
Still, the heat from the sun and ultraviolet radiation, which is terrible for us, can easily discourage us from going outside, especially when there is no shade to stay under.
You can do a lot of things to make sure your backyard has enough shade to enable you to relax in it whenever you want.
You can get more out of your backyard by choosing one out of the 10 Backyard Awnings Ideas for Houses that we will talk about in this article.
10 Backyard Awning Ideas Attached to House
1. Covered Balcony
A covered balcony is another excellent backyard awning idea and one of the most valuable things a homeowner would be proud to have.
It gives you the privilege to enjoy your outdoor while being protected from sunshine and rain. You can also choose the cover design that suits your house.
Another fantastic thing about having a covered balcony is that you can have your friends over for some fun or dinner on your outdoor balcony and enjoy some fresh air.
Some design protects your deck from both sunlight and rain, while some can be for just sunlight only, it all depends on the homeowner's choice.
It also helps you to expand your living space in your house; you can comfortably work with your laptop or even prepare some barbeque in your covered deck while it is raining outside or read your favorite book on a sofa under the shade of your covered deck even at night with some outdoor lightings, you could stay up last and stare at the sky while sitting on a comfy sofa for as long as you wish.
2. Backyard Canopy Awning
Backyard canopies awning has some pros like full shading of a compact balcony; it can also provide a partial shade for a larger one. The fabric used in the backyard canopy is very strong and resistant to tear.
The fabric is also resistant to rain, so it won't lag because it doesn't get soaked, but it is advisable to remove your outdoor canopy fabric if there is a hurricane or strong wind to avoid breakage.
Additionally, you can add some lighting to your backyard canopy awning to add more beauty to it and make it enjoyable even at night.
A backyard canopies awning structure is often permanently installed in your building with bolts; it provides a lovely shade and seems to be the most popular backyard shade concept used in most homes.
The fabric cover usually comes in different colors and can be changed whenever the owner decides to do so, though it is pretty sturdy and can last for a long time.
3. Backyard Canopy Pergola
A pergola is used to create a partial shade, and vines can be grown on it. It is one of the backyard awning structures that are pretty inexpensive to construct; you need a few lumber coated with painted after construction.
The pergola can be covered with awning fabric initially. Still, vines help create a lively green cover that helps to blotch sunlight and create a cooling effect, just like standing in the shade of a tree, making a pergola a perfect relaxing environment.
Pergolas don't completely block out sunlight; they provide partial shade and allow filtered sunlight to pass through. They are still an excellent choice for a backyard shade idea.
They are freestanding structures, and you can add fabric covers or plant vines over the lattice roof to provide more shade.
You can use some fabric material to cover just the top or cover the top and sides of the pergola with a drape material. You can also decide to go for the one with a retractable roof design.
Depending on the design, a pergola is very elegant and allows air to move in and provide a calm environment. They are also relatively easy to maintain.
4. Retractable Awning
There are different types of retractable awnings you can choose to install in your backyard. Most homes and even stores make use of retractable awnings to create shade.
Retractable awnings have a significant advantage over permanent backyard awning ideas because of how adaptable it is to weather conditions; it can be fully stretched out on sunny days to provide shade from sunlight.
When the weather is cold, it can be retracted to allow sunlight into the house and provide some heat which helps to reduce the cost of using an electric heater to generate some warmth in the house.
Find out: Is Backyard Farming Profitable?
Another advantage of retractable awnings is that you can also be close to them ultimately when it is windy or in case of a heavy rainstorm to avoid wear and tear, enabling them to last for a very long time.
This can also be done using motion sensors that trigger them to retract automatically; this is quite useful when nobody is around to close them manually.
The same thing can be done using a sun sensor to close it and extend it at sunset and sunrise, respectively.
5. Portable Shade Canopy
Portable shade canopies are also known as pop-up canopy are lightweight structures just like tents, and they are simple to set up; they are very convenient because you can move them to where ever you want shade in your backyard. It can be easily set up by one person and taken down at the end of the day or when they are no longer needed.
The portable shade canopy is compact and can easily be carried to anywhere you want them. They come in handy when you need some shade in your backyard or patio, and they are pretty inexpensive to purchase.
6. Cantilever Umbrella
Outdoor Umbrellas are not to be overlooked when looking for shade ideas because sunny days out to be the best time to have some fun outside, but too much sunlight and ultraviolet radiation, which is quite harmful to our skin, can hinder us from having the kind of perfect outdoor time we desire.
Shading our backyard outdoor can also help protect our outdoor furniture from adverse weather conditions, leading to fading or degradation.
Having a shaded patio or deck gives more appeal to a home and makes it more attractive, whether it is the poolside or backyard garden or even children's play area.
Umbrellas can serve this purpose quite perfectly too. Umbrellas are generally lightweight, which makes them very easy to carry around.
Cantilever umbrellas are pretty different from the regular umbrella because they have a pole-like structure that makes them stand freely.
The pole is usually located by the side, giving it more room for chairs and tables than the other types of umbrellas. They are also very adjustable, which allows you to bend them in any direction to achieve maximum shade from sunlight.
7. Market Umbrella
The significant difference is this type of umbrella. The cantilever umbrella has a center pole; people often call it a patio umbrella, but patio umbrellas are different from market umbrellas.
The center pole of these market umbrellas is usually made of wood, and the tops are usually vented to allow the free passage of air through them.
These market umbrellas are often used in seaside homes because the vented caps allow the breeze to pass without blowing them away. The larger ones can provide shelter from both rain and sunlight.
8. Patio Umbrellas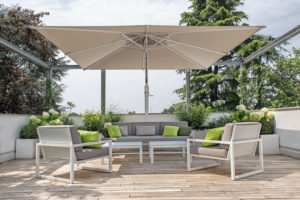 Patio umbrellas are different and uniquely designed so that you can easily place them on an outdoor table that usually has a hole.
Most times, the base of these patio umbrellas is a weighted base to make them more stable. The size of the umbrella will determine the weight of the base required to make it stand upright.
For optimal shade, it is recommended that the width of the umbrella should be longer than the width of the dining table and chair by at least two feet.
They are quite a classy backyard shade idea, and some may have solar-powered LEDs, which makes them usable even after the sun has gone down.
9. Sun Sail
A sun sail (also known as sunshade canopy or sail away or shade sail) is another excellent way of bringing shade to your backyard, even though it is a temporary structure.
Just like the name implies, it looks like a boat sail, but in this case, it is attached to a roof of another nearby structure around the house to provide shade in the backyard.
Constructing a sun sail is relatively easy and inexpensive, and when done properly, it has an incredible way of adding shade and style to your backyard.
It comes in a variety of colors, and the fabric material is usually resistant to ultraviolet radiation. Sail material is made of High-Density Polythene Fabric, and it is also resistant to rain which means you don't always have to shut take them down whenever it is raining. You should also consider the size and space you want to cover.
10. Planting trees or vines
Trees are natural and the oldest source of shade, especially a big tree with spreading branches. A tree also reduces the temperature of the environment, even on sunny days.
If you want to provide a natural shade for your deck or backyard, you may consider planting some trees; deciduous trees often provide more shade and add more beauty and elegance to your patio because they provide abundant shade during the summer months shed their leaves in the fall.
Before planting a tree on your patio, you need to research how big they can grow, how tall and wide, and whether they are recommended for your area. You also need to consider the type of leaves the tree you intend to bears; are they broad leaves or narrow leaves?.
Another essential aspect to consider before planting a tree in your backyard is the root system. Some trees have root systems that may be considered destructive when planted close to a house because they have a large width.
It is generally advised not to plant trees close to your house's foundation to avoid cracks when the roots broaden in search of water. Some trees also produce toxic educated that may be harmful to animals and even humans.
Trees are known as living shade solutions, and you can also prune them whenever they start getting too big or spreading too much.
Lastly, vines are another excellent source of shade for outdoor areas such as decks or backyard patios. They are very ornamental, and some have glamorous blooms while providing a leafy and cool shade.
Vines need support to grow; unlike trees, you can grow them on a lattice panel or trellis by tie loosing with twine as they grow and position them in such a way that it provides shade where it is needed. A good example of vines that can be planted for shade is hops, morning glories, and ivy.
Edible grapes can also serve as a good shade vine. You can choose to plant an annual or a perennial vine in your backyard or patio. Other examples of vines you can plant are Honeysuckle, Jasmine, and Virginia Creeper; if you have a strong structure, you can plant a Wisteria because it has a woody stem, making it quite heavy.
You may also like: 
Hope this article is hepful, kindly use your social media account like Facebook, Twitter, Linkedin, Quora or Reddit to share this information with those that might need it. Let's know your thought in the comment section below!
Cheer!
www.backyardcaring.com
10 Backyard Awning Ideas Attached to House