What everyone wants to do during winter is stay at home and enjoy some fun activities with families and friends. If you have kids, you may need to get creative to keep them entertained and engaged.
If you are familiar with 'frozen,' a popular Disney film, you know it would be a good idea to recreate one of the best characters: Olaf. 
This article will guide you on using the 'how to build a snowman kit' to create a fun time with your kids. 
What Is A Snowman Kit?
A snowman kit includes every item you need to make a snowman quickly. There are different kinds of snowman kits, some containing only the decorating items (like the beanie, neck scarf, buttons, Hausarbeit schreiben lassen kosten plastic carrot, and plastic wooden arms). In contrast, some kits include decorating accessories and foam balls that can be used to build a complete snowman that can be used indoors.
However, some kits contain food items that can be used to build a snowman. This type of snowman kit is excellent for an indoor winter activity with the kids, and the best part is that it can be savored right after the fun of building it.
How To Build a Snowman Kit
A snowman kit is a present great idea for any child you know. That is because a homemade one doesn't only recreate a character from one of their favorite cartoons; this homemade kit can also be eaten after being put together. 
The materials used to make this snowman kit can be found in your kitchen or easily purchased from a nearby grocery store.
Materials required to make one snowman kit
Three large marshmallows (for the body and head)

Two mini marshmallows (for the feet)

Two mini chocolate chips

Three chocolate chips

A candy corn

Two pretzel sticks

1 tbsp of white frosting

Kitchen scissors

Sandwich bag

Tape

Stapler

Frozen or snowman-printed card
You can make one snowman kit using the following steps and the materials listed above. Double or triple the ingredients to make more kits.
Place the marshmallows, pretzel sticks, and chocolate chips into the sandwich bag.

To shape the candy corn into a carrot suitable for a snowman, cut off the white and yellow parts and roll it between two of your fingers to give it a narrow shape. Pinch one end to form a pointy tip, and add your candy corn carrot into the sandwich bag containing the other ingredients.

Scoop up one tablespoon of white frosting, insert it in a portioned snack-sized or mini piping bag, and fold and tape down the edge. The frosting will be used as the glue to hold up the chocolate chips and the marshmallow feet and body. Add the packaged frosting to the sandwich bag.

Seal and fold the sandwich bag two times and staple it to the card you have purchased.
Instructions for using a snowman kit
Carefully take out the staple pins and remove all the ingredients.

Apply white frosting on one end of both mini marshmallows and stick them on one medium-sized marshmallow.

Apply frosting on the ends of the other two marshmallows and stack them on top of each other.

Apply frosting on the mini chocolate chips and the giant chocolate chips. The mini chocolate chips will serve as the eyes, while the large ones will be the buttons.

Insert the pretzel sticks on both sides of the snowman body.

Stick your candy corn carrot into the head of the snowman.
Best snowman kit to buy on amazon
While an edible snowman kit is a great idea, you may want one suitable for outdoor use. Most outdoor snowman kits contain decorative items. These decorative kits give your snowman a lot of exciting features.
Here are some of the best snowman kits you can buy from your favorite online store: Amazon.
Best basic: Fixget snowman kit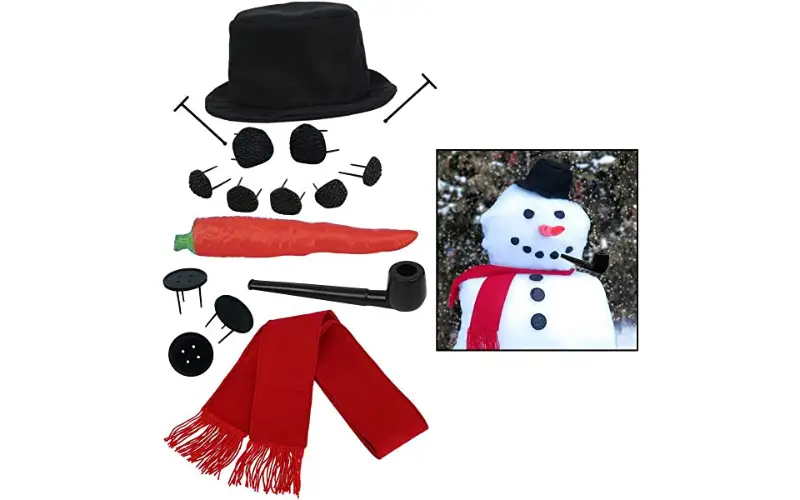 It is a basic snowman that contains the necessary snowman decorations. This kit costs $12 and contains a top hat, scarf, pipe, buttons, eyes and mouth, and plastic carrot nose. Because most items are made of plastic, they can be reused every winter to decorate your snowman.
This kit only contains decorations for one snowman, meaning you will need to buy more than one kit if you need to make more than one snowman. If you need arms for your snowman to be complete, this set is not your best bet.
Best Desk kit: Toysmith melting desk snowman
If you want a miniature and semi-realistic snowman, this desk snowman that melts at room temperature will be a great decoration and a point of interest for your kids. This desk snowman kit melts at room temperature but doesn't make a mess and is easy to clean up. It can be reused.
The melting snowman includes a top hat, scarf, hands, eyes, nose, and buttons. The body can make a snowman as tall as 3 inches, then melts again at room temperature.
How To Make A Reusable Snowman Kit
If you want to make a reusable snowman kit rather than one that is not, then there are different items you can gather to make your kit. Here are some everyday items you can gather in your snowman kit.
Hats
Beanie

Red or green velcro

Top hat
Nose
Plastic carrots

An orange pen cap

A painted ¼ inch dowel rod
Mouth
Hands
Thin branches

Curvy straws
Body
Small rocks

Buttons attached to bamboo skewers
Conclusion
A snowman kit is a great present you can offer to kids or have at home for the winter season. If you are worried about the cost of purchasing one, you can make one in the comfort of your home. 
This article delivers a detailed guide on how to make an edible snowman kit for your kids. It can also serve as a great winter activity.
You May Also Like:
Suppose you want a basic reusable decorative kit for an outdoor snowman. In that case, you can easily purchase one of your recommended options from Amazon or use the items listed to create a DIY snowman kit.
Follow us on Facebook, Instagram, and Pinterest for more updates.