Choosing the right size of trampoline for a specific age group and a specific purpose has proven to be a difficult task.
While there are varieties of sizes and shapes to choose from, there are also other factors to be considered like the purpose of the trampoline, the weight capacity, available space, and the age of the trampoline users.
If you are looking for a guide to follow when choosing the right trampoline, then keep reading. This post might just be for you.
The Trampoline Size Guide According to Age and Usability
8ft Trampoline
An 8ft trampoline is 2.4m wide (its diameter) giving it a limited space to bounce. It has a jumping area of 2.01m and an average height of 2.33 m. Its carrying capacity is 80kg (176.4lbs).
An 8ft trampoline consists of 48 to 62 elastic springs, and in some cheaper brands, the number of springs is less. Its mat is 14mm to 21mm thick.
10ft Trampoline
A 10ft trampoline has a diameter of 3.05m and an average height of 2.6m. It has a carrying capacity of 75kg to 120kg (165.3lbs to 264.5lbs).
A 10ft trampoline has 52 to 72 springs and is 14mm to 21mm thick. A 10ft trampoline is suitable for 6 to 14-year-olds.
12ft Trampoline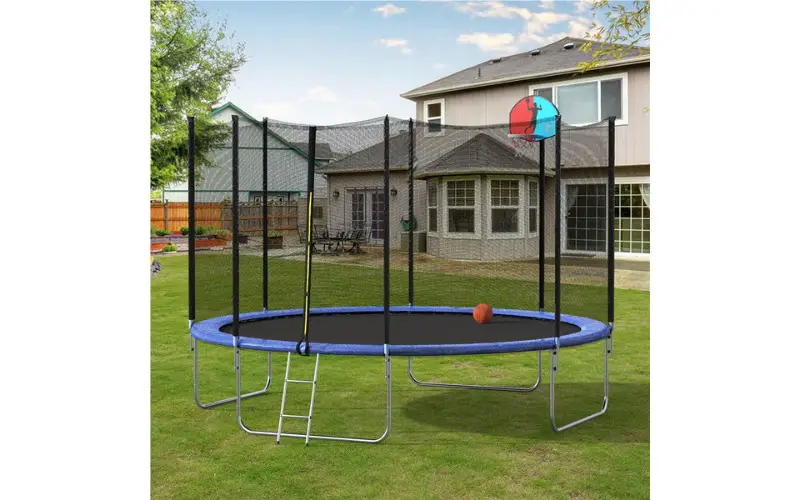 A 12ft has a diameter of 3.17m and has a carrying capacity of 112kg to 150kg (247lbs to 330lbs). It has at least 72 elastic springs and can be used by kids and teens 6 to 16 years old.
14ft Trampoline
A 14ft trampoline has a diameter of 3.7m and has a load capacity of 120kg to 150kg (264.5lbs to 330lbs). The 14ft trampoline is best suited for individuals 9 years and above. It falls under the big category.
16ft Trampoline
A 16ft trampoline is huge and can incorporate several users. It occupies a great deal of space. It has a diameter of 4.88m and a carrying capacity of 150kg (330lbs). Adults can use this trampoline.
Types of Trampolines
The trampoline was invented by American gymnast George Nissen in the 1930s. Most people think all other shapes of the trampoline are just like the round trampoline, I mean a trampoline is a trampoline, right? Well about that, trampolines vary in size shape, and purpose.
A few factors may differentiate one trampoline from another, so you need to know the types of trampolines and their differences before purchasing one.
1. Round Trampolines
Round trampolines are the most common type of trampolines, the type you see in backyards. They are one of the safest options and they push users towards the center to prevent you from galling off.
They vary in size ranging from 12ft to 16ft, they also vary in weight capacities.
2. Rectangular trampoline
The rectangular trampoline offers the same features like a round trampoline, but it comes with a slight difference. Its shape makes it easier to fit into narrower spaces.
The rectangular trampoline also gives a special experience as it doesn't guide you to the center like the round trampoline, instead you choose where to land.
Unlike the round trampolines, the rectangular trampoline cannot be used by kids as it offers a higher jump than a round trampoline.
It is mostly used by professional gymnasts, it is tending to cost more than a round trampoline.
3. Square Trampoline
A square trampoline is the combination of a round trampoline and a rectangular one. It is big and offers safety just like the round trampolines, and it can also be used for professional purposes just like the rectangular trampolines. Though it is not very common, square trampolines are cheaper than rectangular trampolines.
4. Springless Trampoline
The springless trampoline is the safest trampoline there is. It was designed by a New Zealand engineer Dr. Keith Alexander after he took notice of the large number of children hospitalized as a result of injuries sustained from using a trampoline.
The springless trampoline does not use springs and has high weight capacities. Though the springless is more expensive than a regular trampoline.
5. Mini trampoline
The mini trampoline or fitness trampoline as the name implies can be found inside a gym. Because of their small size, these trampolines can easily fit indoors.
Some models are foldable to aid transportation. Moreover, mini trampolines are cheap, and a good quality one can be gotten for $50 or below.
A mini trampoline is a great form of exercise. It strengthens the muscles and joints and aids weight loss. You can also lose a reasonable amount of calories when using a mini trampoline(or rebounder) to work out.
6. Kids Trampoline
Kids trampolines are designed to keep children safe during use. The springs on the trampoline are padded to prevent possible injuries. This trampoline considers the health and safety of your kids.
7. Inflatable Trampoline
An inflatable trampoline or a water trampoline is a great idea for a trip to the beach or any sea-related vacation.
It can alternatively be used on a water slide, where one person slides down and the other goes flying into the air from the trampoline's impact. There are fun for the kids.
8. Bungee trampoline
The bungee trampoline is not the kind of trampoline that can be set up in a backyard or easily bought, it is mostly seen in this and big events. A bungee cord is attached to the trampoline that allows users to jump very high (higher than normal).
The bungee cord keeps the trampoline users safe, and there is also staff present to monitor the whole performance. When using a bungee trampoline, you will feel a certain excitement and thrill.
9. Octagonal trampoline
It can also come in form of other polygons like a pentagon, but the perfect example is the octagonal trampoline.
It is made for kids, it has a high weight capacity, but it should be considered before letting lots of kids inside. It is big enough to contain a bunch of giggling toddlers, it costs more than the round trampoline, but the size and the fun make it worth it.
10. Caged trampoline
A cage trampoline comes with a mesh cage to prevent users from falling off. It comes in different shapes and sizes, and the mesh is seen through so you can equally keep an eye on your kids. A caged trampoline ensures the safety of your kids.
How To Know What Size of Trampoline Is Right For You
When you want to purchase a trampoline for yourself, you should consider your weight and age. If you weigh 70kg to 150kg you may need to consider getting a 12ft or 14ft trampoline as they have a higher weight capacity.
Who will Be Utilizing a Trampoline?
A lot of people can use a trampoline. Of course, not everybody can use a trampoline, it can be hazardous to some individuals. Here are the categories of individuals who should not use a trampoline.
The elderly
Children below 6 years of age
People with health challenges
Of course, other people can make use of a trampoline for recreational or athletic purposes. A gymnast can use a trampoline to perform stunts, circus performers can use a trampoline during their showcase, children above the age of 6, teenagers, and adults.
How Much Space Do You Need for A Trampoline?
A reasonable amount of space is needed when purchasing a trampoline. If you have an idea of the trampoline you intend to buy, then measure it (the trampoline) and use the measurement taken to determine if you have sufficient space.
If you do not have an idea of the trampoline you intend to buy, then measure your area to know the amount of space you have, and then afterward you can decide what size to buy.
For instance, if you have a 24-foot backyard, you may want to consider purchasing a 12ft trampoline, so you still get some free space at the end. The space needed for an 8ft trampoline would be the size of a 10ft trampoline.
What Trampoline Shape Should You Consider?
You should consider a shape that best suits your purpose. If you are purchasing a trampoline solely for recreational activities or children's use, then consider getting a round trampoline or an octagonal trampoline as they are best suited for these purposes and are safe.
If you are purchasing a trampoline for athletic use or circus performance, then we will highly recommend a rectangular or a square trampoline as they offer higher jumps and enable you to choose where to land.
How Much Weight Will Be on The Trampoline?
The weight of the trampoline depends on the size being used, as each size of the trampoline has its weight capacity. For a small trampoline—8ft or 10ft— its weight capacity ranges from 75kg to 120kg (165.3lbs to264.5lbs).
For a medium-sized trampoline—12ft— its weight capacity is between 112kg to 150kg (247lbs to 330lbs). And for a large trampoline—14ft or 16ft— its weight capacity is 150kg(330lbs).
Though the weight capacity of each size may vary depending on the manufacturer. Some trampolines have a weight capacity of 170kg(375lbs). Here are some trampolines with a high weight capacity.
What Size of Trampoline Should You Buy?
You can purchase any size of your choice depending on the purpose it will serve and to whom it will serve, but when making your selection there are a few things to keep in mind.
1. Available space
Just like we mentioned earlier, you must consider the size of your backyard or your indoor space before purchasing a trampoline.
Appropriate measurements should be taken to be well informed of the size your backyard can accommodate.
2. Age of user
The age of the user becomes an important factor to consider when the height of the trampoline is involved.
Children should not use very high trampolines, and if an older child is present then close the trampoline with a safety net to prevent the younger ones from falling off.
3. Weight of the user
If you have read this article carefully you must have come across these words, "weight capacity" a couple of times. Well, that is because it is an important aspect to consider when purchasing a trampoline.
If your child has friends come over and they want to have a little fun on the trampoline you may need to consider getting a 12ft trampoline or a 14ft trampoline, as its weight capacity is higher, and the number of springs present is sufficient.
4. Safety
In 1999 over 100,000 injuries caused by home trampolines have been reported according to gettrampoline.com.
So, when choosing the size of a trampoline the risks should be considered. Enclosure with a safety net may be necessary, padding the springs is also helpful.
How Many Kids Can Fit into an 8ft Trampoline?
One child, and at most two children. The 8ft trampoline is not big enough, it falls under the small category.
For the safety of the kids, it is advisable that the trampoline is used one at a time. While two children using an 8ft trampoline is possible it is not the best option, as a child may tend to fall off.
Is A 10ft Trampoline Big Enough?
Considering the detailed size of a 10ft trampoline, it is big enough to be used by a toddler or two toddlers. But not big enough for a teenager or an adult, as its weight capacity may not support it.
Is A 12ft Trampoline Big Enough?
Yes, a 12ft trampoline is big enough. But for a young family, it is the most purchased size of trampoline, and it fits into almost any backyard. It is big enough for a few kids to have some fun time, of course with the carrying capacity considered.
Is A 14ft Trampoline Big Enough?
Yes, a 14ft trampoline falls under the big category. This trampoline can be used for older kids and adults, and it is best suited for a large backyard.
Conclusion
If you intend to buy a trampoline and you need pointers on what size to buy, what shape to buy, or on which trampoline is big enough, we've got you covered.
We also included helpful links to help you purchase quality trampolines, and if you ever happen to see a good trampoline deal, be sure to jump on the offer.
You May Also Like:
Hope this article helped you determine if 12ft Trampoline Big Enough. You may also want to check out our article on Bounce House Weight Limit.
I will love to hear from you if you have any other suggestions on 12ft vs 15ft Trampoline Comparison, all you have to do is comment below and reach out to people by sharing this post on social media.
If you liked this article, then please follow us on Facebook, Instagram, and Pinterest.