In summer, grilling is a significant part of our everyday activities and dieting; we grill chicken, corn, sausages, and salami for breakfast, lunch, and a lot more for dinner. Oh, what a delicious treat grilled food can be if properly grilled.
Grilled foods are more delicious and taste better than cooked foods, and for you to get your meat grilled to perfection, you do not only need to be skilled, but you most importantly need the right grill.
There are many grills that you can find online ad I stores, but if you are looking for a grill that gives you a pleasant grilling experience, you have to try at least one of the many Royal Gourmet Grill that is one of a kind.
Today we introduce you to the wide range of products by Royal Gourmet Grill; we will help you decide which one is best for you.
Why Is The Royal Gourmet Grills So Unique?
There are a lot of reasons why people love the Royal Gourmet grill, and some friends them include:
1. These brands produce classy and modern products as attractive as they are efficient.
2. Some of their grills are easy to move around because they have wheels that make for easy movement around the house and backyard.
3. There is a wide range of different products that meet all the people's needs.
4. Their product is of premium quality because they are made with good materials and expertise.
5. Many of the models have years of warranty that gives buyers a lot of confidence in their buying product.
The Types Of Product That You Have In The Royal Gourmet Grills Catalog
With The Royal Gourmet Grills, you have a different range of products to choose from. Some of these grills burn gas, others burn charcoal, and there are yet others that are a combination of gas and charcoal. You could even opt for a smoker that cooks meat nice and slow.
If you are looking for a grill that is very easy to use and comes with a side burner, you can go for a gad burning Royal Gourmet Grills. It is more like a kitchen cooker in which you can cook a whole meal I'm.
The charcoal grill is a great set for grilling meat, giving that classic smokey aroma. And if you are torn between buying a gas or charcoal-burning Royal Gourmet Grill, then buy the combo model that gives you all the gas and charcoal grill benefits.
Recommended: How to Tell if Brats are Done on Grill Without a Thermometer
The Weight And Sizes Of The Royal Gourmet Grills
The weight and size of this range of grills differ based on the model you buy. The mighty combo model is the largest of the set, with a weight of about 110 pounds and an area of 576 square inches; you can be sure you can grill lots of food at once in this unit.
There are also portable grills that have a porcelain-enameled surface that weigh 22 pounds, yet they are sturdy and large enough to cook eight patties on.
The charcoal model is also relatively heavy with about 60 pounds and a grill area of about 400 inches which means you can grill lots of food at once in this unit.
How To Use The Royal Gourmet Grill
Because Royal Gourmet makes different grill types, there's no single answer to this question. If you have a gas or combo grill, assemble it as per instructions, then make sure it's correctly connected to the gas (again, by following the manual).
The manufacturer's manual will provide you with all the specific information about any products you pick from this brand. However, this is the way to use most of The Royal Gourmet Grill.
If you want to use your set and it comes with a lid, open it and turn the gas regulator to "On." You then simultaneously turn the control button as you push the button of the ignitor.
If you have the charcoal model, you first remove the grates, place three firelighters in the lifting system, and then place charcoal all around them. Then replace the grate, ensuring high enough for what you want to grill.
To know that the grill is ready to be used, you will notice a layer of ash and charcoal. For grills you are using for the first, you should allow the charcoal to burn for about 2 hours.
How To Clean And Maintain Your Royal Gourmet Grill
If you have a gas-burning grill, you should burn the grill off for about 15 minutes after you have finished grilling in it to ensure that no food remnant is stuck to the grates after cooking.
You should also wash your grill frequently with washing soap and water while you can use baking soda solution to clean the outside of your set. It is advised that you should never use an oven cleaner for cleaning your Royal Gourmet Grill.
If you have a charcoal grill, you should brush off any charcoal or ash left on the grill before you clean it with washing soap and water.
Afterwards, wipe the grill dry with a soft cloth to prevent the grill from being corroded due to the moisture on it. You should ensure that you allow the ash to cool down after each grill and then empty the ash.
How To Store The Royal Gourmet Grill
Royal Gourmet Grills has a good number of grill covers made of quality material that you can use to cover your grill while it is not in use; this ensures that your set lasts for longer and prevents wear and tear associated with using the grill. This cover serves as a sort of protection against the elements too.
You should cover your grill during those very cold winter days and store them inside in a safe and dry place against rust.
Before you store it, you should clean the grill thoroughly since any morsel of food left on it will attract rodents that can invade your home. After cleaning the grill, dry it with a soft cloth and ensure it is not damp before you store it.
For gas-burning Royal Gourmet Grills, endure that you disconnect the propane canister from the grill before storing the grill to prevent a fire mishap.
The best Royal Gourmet Grill Mod

e

l
Here are our best pick from all the Royal Gourmet Grills that there are:
1. Royal Gourmet CC1830S – Best with Offset Smoker
This is a charcoal grill that is made of stainless steel and has a total cooking surface of 811. square inches. The cooking grates are a 443 squares inches porcelain-enamelled steel wire, while the chrome-plated warming rack has an area of 184 square inches and the offset smoker surface area is 184 square inches too.
This unit is engineered so that it can regulate and retain heat so that even after cooking the food, it can keep the food warm for some time.
Why You Will Love This Unit
1. This grill has porcelain-coated grates that are aesthetically pleasing.
2. This set is a delight to clean because the porcelain coat makes fir easy wiping of the grates.
3. It is portable and presentable.
4. It offers hood value for the cash you pay.
5. It has a large cooking area.
6. The offset cooker, which is a plus to the unit, adds more value to the product
Bad reviews
1. The smoker is not larger enough to cook bigger chunks of meat.
2. The smoker box is a tad difficult to clean.
2. The Royal Gourmet CD1824E 24″ Charcoal Grill
It is hard to say if people love this set because of the foldable side tables for keeping the equipment it comes with or its ability to evenly spread the temperature within the entire panel. This charcoal-burning grill is one of its kind in terms of its look and efficiency.
Why You Will Love This Set
1. It is very portable and can be moved around easily.
2. It is large enough to cook a meal for about ten people.
3. The temperature control of the charcoal area helps users regulate the set's temperature.
Bad reviews
1. Opening and closing the charcoal access door during grilling is a challenge because it becomes hot as it is made of steel.
3. Royal Gourmet SG6002 Cabinet Propane Gas Grill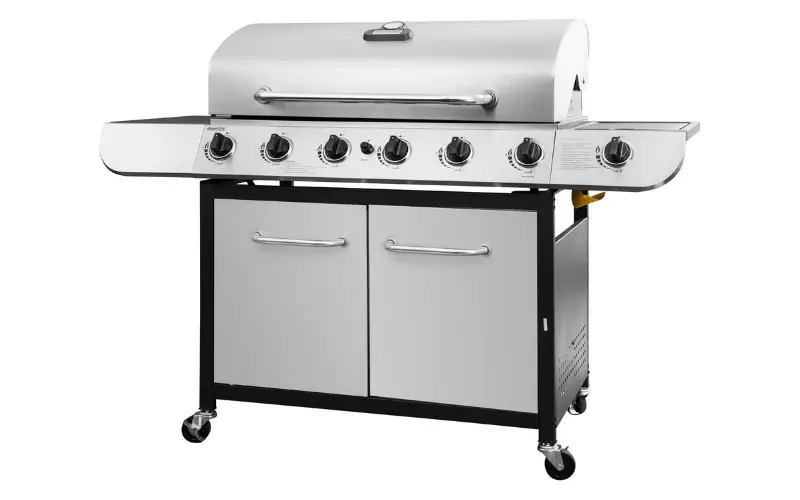 This dynamic grilling machine that burns a gas, precisely propane, is made of stainless steel and has five cooking burners, a sear burner, and a lidded side burner. It has a total cooking area of about 797 square inches which makes it an excellent option for a big party or event
Why You Will Love This Unit
1. It has a large cooking space which means more food can get cooked faster.
2. The grate retains a lot of heat, ensuring that your food stays hot long after the grilling.
3. They are a joy to clean.
4. It doesn't rust because the material used to make this product is rust-resistant.
Bad Reviews
1. The weight is light, feeling that it is not worth the money you will be paying for it.
2. Some parts of the grills are not rust-resistant, meaning that try cannot be stored outside or else those parts will rust.
4. Royal Gourmet GT1001 Tabletop Gas Grill – Best Compact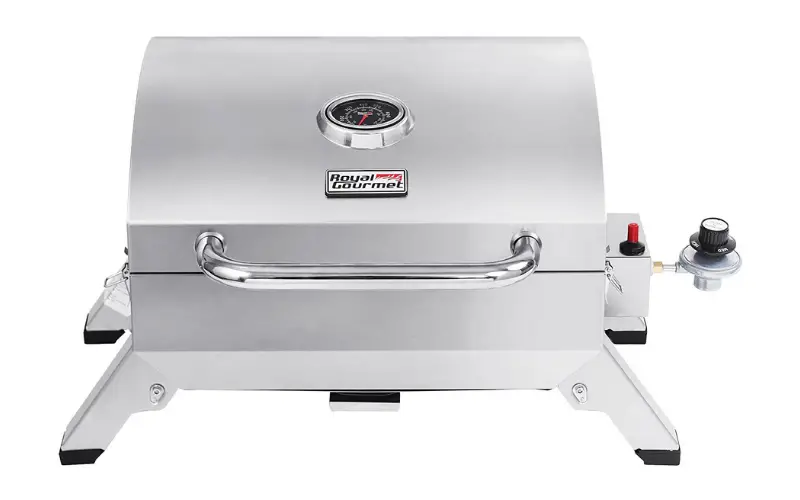 One of the best selling points of this grill is that it has folding legs that make for easy movement. It is a propane burning grill made of stainless steel, portable and compact, and very transportable. 
The cooking area is 280 square inches, which is relatively large enough to cook large dishes.
Why You Will Love This Unit
1. The tabletop f the grill is very easy to clean.
2. The cooking space is quite big in comparison to its size.
3. The unit can retain heat which keeps your food hot even after grilling.
Bad Reviews
1. The heat deflector tor of this grill could be more efficient because there is no even distribution of heat. The impact is that you end up with some food undercooked while others are overcooked.
5. Royal Gourmet 8-Burner Gas Grill – Best for Big Company
If you are getting ready to prepare meals for a large number of people, then this outdoor grill is for you. It has a cooking area of 969 square inches wide and is made of porcelain and steel. It has eight steel burners and two side panels to place your grilling equipment.
Why You Will Love This Unit
1. It is a huge grill that makes cooking for a lot of people a lot easier
2. The two foldable panels gods all the grill g equipment you will be needing.
Bad reviews
1. Assembling the eight burners is not child's play.
2. It doesn't have an accessory grill, much to our disappointment.
Conclusion: Royal Gourmet Grill Reviews
I hope we have been able to tickle your fancy about this brand of grills that are becoming new to the most sought-after grills today.
They come in charcoal burning models, gas-burning models, and a model that combines the first two. You can choose from the number of available models depending on your preference.
Royal Gourmet Grills can be the king amongst a host of many different grills that you find around.
Helpful Links:
We trust this article helped you know the Royal Gourmet Grill Reviews and Buy Guide. You may also want to check out the Difference Between Weber Q1200 and Q2200?
Thanks for taking the time to read our article, and we hope you find it helpful. Would you mind leaving a comment below if you have any suggestions?
Kindly reach out to people by sharing this post on social media.
If you liked this article, then please follow us on Facebook, Instagram, and Pinterest.