Fire pits are now a common sight in many homes, making it the center of their family lives, especially on cold winter days when the fire pit becomes a place to gather and keep warm. 
It is commonplace to see people gather around their fire pits to watch their outdoor television while they drink coffee and enjoy each other's company. The feeling is simply euphoric.
Despite how much warmth and light that fire pits give on cold nights, there is a need to be safety conscious because the fire may spread and develop into wildfires as stray sparks easily fly from the fire pits.
This is where fire pits ring insert come to play; they help offer safety against any fire outbreak from the fire pit while also helping you prevent spending time and money on fixing damaged and cracked fire pits.
What Is a Fire Pit Ring Insert?
A fire pit ring insert, also known as a fire pit ring liner, is a metallic inner layer placed around the walls of your fire pit to reduce the stress on the fire pit. 
These ring inserts are useful in extending the life span of your fire pits, especially the bricks or concrete materials that they are made of; this they do by preventing them from being exposed to direct flame and heat.
Fire inserts help maintain the structural integrity of your fire pit and its surface and ensure that the fire pit's appearance keeps looking fine. They also serve as a safety guard that makes fire safer and prevent sparks that could lead to a fire outbreak.
Fire Pit Ring Inserts
Does a Fire Pit Need a Ring Insert?
This is a common question that most people who are building a fire pit always ask. The truth is that fire pits are not compulsory for your fire pits, but they will do so much good for you if you do have them. Below are some factors that will determine if fire pit rings are optional or compulsory for you: 
You will not need a fire pit ring insert if the lining of your fire pit is bricked; this is because bricks are the best material for building a fire pit. After all, they are designed to withstand very high temperatures and still maintain their structural integrity. But if you love the look of a ring insert in your brick fire, you can still insert one.

If your fire pit is made of granite, flagstones, landscape paver and the like, then you might need to put a ring insert into your fire pit not because these materials cannot withstand the heat or flame but because the ring insert will prolong the life span of the fire pit. However, it must be noted that compressed concrete blocks should never be used in maki g your fire pit because they have a high chance of exploding.

Firepit ring inserts are a little pricey, and many people will decide not to fix one because they do not want to pay so much for the product. So, if you can afford to pay for a ring insert, please buy, and insert one because the benefits far outweigh the cost.

Taste and preference are other considerations to inserting or not inserting a ring in your fire pit. Many people love the rustic look of a ringless fire pit and so will not insert a ring into their fire pit, while some love the contemporary look that a ring insert gives to their fire pit, and these people will insert one even if they need it or not.
SEE: Common Propane Fire Pit Concerns
What Is a Good Diameter for A Fire Ring Insert?
Ring inserts for fire pits come in different diameters based on the size of your fire pit. Most of the ring inserts you find in stores and online range from 24 to 46 inches in diameter, and they come in different thicknesses.
If you want a piece that does fall into the commercially available range, you can get a customized one that fits into your fire pit, but you can be sure that you will have to pay a little bit more for your personalized fire pit ring insert.
How Much Does a Fire Ring Insert Cost?
The price you will pay for your ring insert will always depend on the size, quality of the product, thickness, and material used in making it; for instance, ring inserts made of Aluminum are a lot cheaper than those of steel because the latter is stronger.
There are ring inserts that go for as low as $63, and they look good and are also effective, while there are some that go for as high as $350. 
Your taste, preference, and amount you are willing to pay will determine which of the wide array of ring inserts you will go for.
Is A Round or Square Fire Pit Better
 Fire pits are traditionally round, but contemporary designs are square, rectangular, and even hexagon, but the commonest shape is the first round and then square shape.
Here are a few reasons why people love square pits.
Square fire pits look more classy, modern, and formal; they give an impression of order and generally looks a little futuristic.

Square fire pits have the advantage that large furniture like benches and sofas can be arranged easily around them.

They are better options in backyards and patios with small spaces.

More people can be accommodated in patio furniture and benches in a square-shaped fire pit than in a round fire pit of the same size.
Here are reasons why some people would prefer a Round Fire Pit.
Some people prefer round fire pits because they distribute the heat evenly around your space.

If your fire pit is made of stacked stones, a round fire pit fits perfectly into it.

A round fire pit makes for good conversation between guests as they commune as in a traditional campfire.
Can I Make My Own Fire Pit Insert?
You can make your fire pit ring insert in as much you have the tools and materials that you need. Most people who make theirs usually cut a section or sections of steel metal and then fabricate it into a round or square shape. 
Most of these DIY fire ring inserts have no bottom, which means that you have your wood sitting directly on the floor of your fire pit.
The reality about making your fire pit ring insert is that they are hardly as well constructed as what you have in stores and so are not as durable. 
Secondly, if you do not have experience with dealing with metals and hand tools, not only will you get low-quality material without knowing it, but you also run the risk of hurting yourself as you work with these tools and metal.
Hence, the truth is that you can make your ring insert, but your best option is to buy one for yourself and save yourself the risk of cutting or hurting yourself as you try to make a fire pit ring insert yourself.
What Is Best to Put Around a Fire Pit
Putting the suitable material around your fire pit is essential because some materials cannot withstand very high temperatures and what will happen is that they will split and explode. 
Hard rock, gravel or even sand are not best for putting around your fire pit because they explode.
Lava rocks and lava glasses are the best material for putting around your fire pit because they can withstand very high temperatures and are good drainage; they are also aesthetic and look good in your fire pit.
Whatever the material you pit around your fire pit, ensure that they are dry before you light the fire because if they are moist and get near a fire, they will most likely explode.
Top 5 Best Fire Pit Ring Inserts in The Market Today
Here are a few of the best fire pit ring inserts that here:
1. Sunnydaze Octagon Fire Ring Insert
These very contemporary ring inserts are made of Alloy Steel which is 2.2mm thick, and are finished with a high-temperature paint for superior quality and high resistance to rust. 
They are 30 inches long, 10 inches tall and 4 inches outer lip in dimension, and they weigh 26.6 pounds. As the name implies, it has eight sides, and each side weighs 11.5 inches long, but they do not have a bottom.
This product is easy to assemble and can be used both in-ground or above-ground, and is great for campfires and backyard bonfires. 
Another great thing about this product is that it has a 1-year warranty, which buttresses its durability. All the reviews about the product have been positive.
The product goes for about $139 as of September 2021; you can look up the shipping cost to your destination.
2. Mtb Backyard 30 Inch Wildlife-Deer Ring
This beautiful piece of work which is round, provides hours of outdoor family fun with the art and craft style which blends seamlessly into any backyard. 
This product has three different deer cutouts designs and is in the form of a mesh that allows the fire to burn consistently with the right amount of air.
It is made of heavy-duty steel and finished with a high-temperature paint finish that ensures premium quality, functionality, and durability. 
It is also easy to assemble, and all you need to do is assemble the four frames with the bolts and nut. You then tighten all hardware with a wrench and screwdriver, which is also included in the package and your fire pit ring insert is ready for use.
They measure 30 inches in diameter and 9 inches long, and they weigh 8.24 pounds. This product is perfect for a bonfire in patios, yards and gardens, and they cost $56 asides from the cost of shipment.
3. Doniks Fire Pit Ring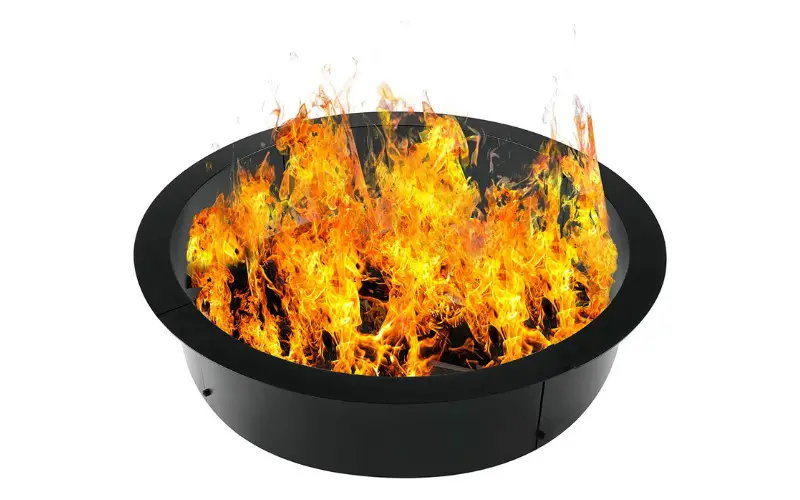 This is around a fire pit ring insert that is round and made of durable solid steel. It is transportable and suitable for the outdoors: camp, garden, backyard, poolside, and patio. This product is 36 inches and 2mm thick. It is 32.4 pounds in weight and does not come with a bottom.
This ring insert can be used in-ground or above-ground and are easily assembled. It is made of Alloy steel and finished with high-temperature paint. 
This product is a little pricey but offers true value for the cash you will be paying; it goes for $ 148.99 and is available online and in stores.
4. Pleasant Hearth Ofw419fr Solid Steel Fire Ring
This solid steel fire pit ring insert is an ideal solution to contain your fire since it is sturdy because it is made of a very strong steel Alloy. 
It has a classy design that will blend perfectly into your outdoor space. This heavy-duty fire ring insert has a large wood capacity since it is 33.50 inches in diameter, the inner ring is 28 inches in diameter, and it is 10 inches tall, while the weight is 36.08 pounds.
One of the unique selling points of those products is that it is cheaper than most of the other ring insert. At $63.89, it offers good value for every cent you pay for it.
5. Vbenlem Fire Pit Ring Insert
This fire pit ring insert, which goes for $159.99, is quite pricey because it is made of premium steel and finished with high-temperature black paint, making it durable and hard to wear. It has an inner diameter of 36 inches and a height of 10 inches while the weight is 36 pounds.,
This unit is designed to withstand the extreme heat of about 800 degrees Celsius and harsh weather without damage or rust, and it comes as a 4-piece ring insert that is easy to assemble, is lightweight and transportable, which makes it suitable for camping, fishing or a simple barbeque in a park or backyard.
Conclusion
Fire pits are becoming the center around which friends and family build their relationships because the fire pit offers warmth both literary and figuratively. 
But they can become a source of disaster if it is not properly built, and a ring liner inserted for safety purposes.
Firepit ring inserts protect the walls of your fire pit from exposure to high temperatures and direct contact with the fire; they also protect the fire from developing into a wildfire. 
There are different types, shapes and brands of this ring insert you can choose from that you should never build your fire pit without installing one.
You May Also Like:
We trust this article helped you know How To Light a Fire Pit. You may also want to check out How to Start a Fire in A Fire Pit? (With Explainer Video).
Thanks for taking the time to read our article, and we hope you find it helpful. Would you mind leaving a comment below if you have any suggestions?
Kindly reach out to people by sharing this post on social media.
If you liked this article, then please follow us on Facebook, Instagram, and Pinterest.