If you own a firewood business or want to start one, you will need a firewood conveyor. A firewood conveyor is a piece of heavy-duty equipment that helps transport your split wood.
If you don't fancy manual work and want to transport a lot of split wood, you should read this article because we will recommend some of the best firewood conveyors for maximum efficiency.
We will also look at how firewood conveyors work; all you need to know about this equipment and its advantages and disadvantages. So keep reading to learn more about firewood conveyors.
How Does a Firewood Conveyor Work?
While the working mechanism of some machines is complex, the working mechanism of a firewood conveyor is quite straightforward. A belt moves along this device, transporting your split wood.
But to dive further into the whole process, a small engine power the hydraulic pump and sprocket, which works the conveyor belt. The engine does not require a lot of fuel and can usually run for hours with just a gallon of fuel.
Are firewood conveyors the same as firewood processors?
Firewood conveyors and firewood processors are two entirely different machines. While a conveyor is used to transport firewood, a processor is used to cut and split the wood.
A firewood conveyor works in hand with a firewood processor; after a processor is done cutting the wood, the split wood falls into the conveyor for transportation. These machines are best suited for business purposes.
A firewood processor can produce 2 to 5 cords of wood in an hour, and a cord of wood contains about 550 to 650 logs of wood, and it measures 128 cubic feet. And that is a lot. There are smaller versions of this equipment, but regardless of the size, the firewood processor produces a lot of wood in a short period.
Best Firewood Conveyors for Maximum Efficiency 
Here are some of our top picks for the best firewood conveyors. These recommended products are suitable for your use and operation.
The length of this conveyor can vary from 20 feet to 40 feet. This machine is designed with high-quality hydraulic height and speed control.
Key features
Modular design allows disassembling

24-month warranty

Chain conveyor can have a length that varies between 20 feet to 40 feet
This heavy-duty machine has chains and paddles capable of handling anything, and it comes in various lengths, making it great for small and large operations. 
They have hydraulic height and speed control; they can be powered by an external source or by the SC-14, SC-15, SC-16 hydraulics.
If you have a DYNA firewood processor, you can easily use this conveyor as it connects easily. However, attaching this conveyor with a different firewood processor will be difficult because it connects easily with only a DYNA processor.
The length of this conveyor ranges from 7 feet to 50 feet. It helps quickly and easily stack your split wood with its rugged build.
Key Features 
Hopper bin

Vulcanized belts

Amazing length

Powerpack
This firewood conveyor is possibly the longest on the list; it can stretch up to 80 feet per minute. It comes In two different types, the 20-foot and the 30-foot model, 30 feet wide. 
Its common characteristics include tubular steel under Carriage, lightweight channel sides, and operator-controlled hydraulic lift.
While other conveyors use roller chains, the multitask conveyor uses vulcanized belts to move split wood. 
It also has a hopper bin that makes it easy to load from two processors at a time; the presence of pivoting axles makes adjusting this conveyor easy. Although in this conveyor, you will discover that a gas engine is optional, this can be a drawback for some users.
3. Bruteforce Firewood Conveyor
This high-standard conveyor has heavy-duty construction and is available in different lengths, starting from 15 feet and ending with 40 feet.
Key features
No engine

Custom color

Powerpack to operate disc cleaner

Hopper bin present
This conveyor is designed with a Kohler 7HP engine, and it operates with chains that are 18 inches wide. Its wheels twist at a 90-degree angle to improve the stacking ability. 
Models between 15 feet to 25 feet are 18 feet wide, while models between the length of 30 feet to 40 feet are 24 feet wide.
It is furnished with a hydraulic raise that enables radical stacking. You can get a debris separator if you add some more to the initial price. The width of this conveyor belt has proved to be a disadvantage.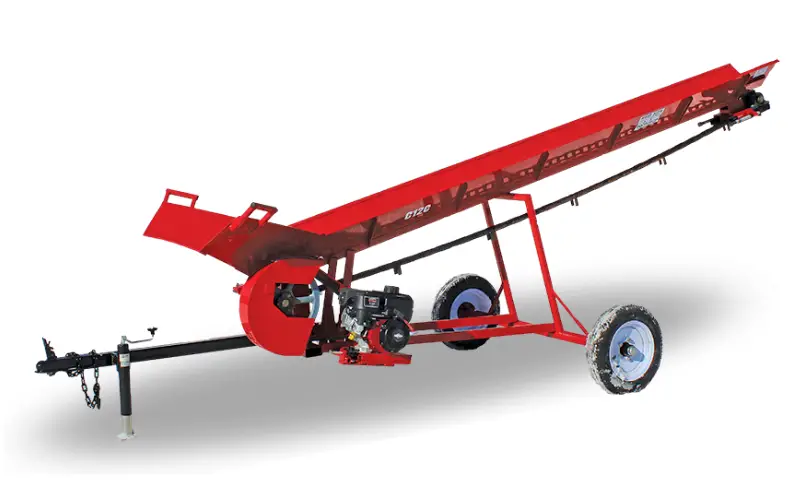 Hud-son dates back to 1946, and they have been known to manufacture high-quality equipment. This conveyor has a minimum length of 14 feet and a maximum of 32 feet.
Key features
Vulcanized belt system

Optional hydraulic drive system
This conveyor is constructed with heavy steel frames that easily fit any processor. It uses a single belt system and a 2×4 tube frame, this conveyor is not the longest, but it sure does serve well.
If you prefer a conveyor made in the US, this is your brand. This conveyor is the best overall as it has a length that ranges from 16 feet to 32 feet. It can rotate 90 degrees and comes with additional options.
Key features
It comes with a chute and chip separator grate

High-quality chains and paddles that make it durable

Self-contained power pack
While the length of this conveyor is not all that impressive, it has other great features that easily overshadow its flaw. 
It includes a self-contained power pack that allows this equipment to run for 10 hours using only one gallon of fuel and save you a lot of money.
It can also turn on a 90-degree angle when placed in its original spot; this makes transportation easy. The Wolfe conveyor is built to last for a long time, so you don't have to worry about it falling apart.
Benefits of firewood conveyors
A firewood conveyor will not be of much use to a homeowner. But if you are starting a firewood business, a conveyor is very helpful. You will be able to move many logs from your processor at once.
And business is all about productivity. 
The more firewood you can move in a day, the higher your profit spikes. Even as they are helpful, they also have their drawbacks.
Before purchasing a firewood conveyor, you should know that they cost a lot. They don't cost hundreds of dollars; they cost thousands of dollars. And if you are also purchasing a firewood processor, you will spend a lot.
This equipment is heavy and large; hence, it is difficult to move around. With a length that ranges from 15 feet to 80 feet, this equipment weighs about 112 pounds, so moving them from one position to another will require a lot of effort.
Important factors to consider 
Some conveyors are built to use a large amount of gas. If you want to spend less on gas, you should consider conveyors that work hours using just one gallon of gas. The Wolfe firewood conveyor is an example of a conveyor that uses less fuel.
Because all firewood conveyors are not the same, you will need to look at the length of the conveyor and the length of the belt. 
A conveyor can be as long as 80 feet and as short as 15 feet; depending on how you plan your operation, you should be able to choose which type suits you.
You should look at the quality of your belt. 
If your belt is not durable, it may slow down your conveyor air stop it entirely. Other parts of the conveyor, like the chains, should also be inspected. A weak chain will not drive your belt, causing the whole system to fail.
Other options
If you don't have the money to purchase a brand new firewood conveyor, don't fret, there are other options to consider. 
You can always go for a used conveyor, but ensure that it is in good condition to make it worth your money.
You can also go for a DIY project making your conveyor. That's right; you can make a homemade conveyor. All you need to do is modify an elevator or gravel conveyor using simple tools and materials around you.
Conclusion 
If you want to start your own firewood business and need a conveyor, these recommendations should have helped you. We have listed conveyors with special features based on length and fuel consumption.
A firewood conveyor may be useful to your business, but it is also costly. That is why you have the option of buying a used conveyor or the option to make your conveyor. 
You should know the seriousness of your business to determine the size of the conveyor you want and consider the durability of your belts and chains.