Backyard gathering can be considered a form of outdoor gathering depending on the event you're gathering for (birthday, wedding, baby shower etc.) and the number of people present.
You can engage in many activities with your friends in your backyard, especially during the summer when the atmosphere is warm.
But before you go on with your backyard gathering, ensure you adhere to the COVID-19 rule to make it as safe as possible for everybody involved.
But if you're attending a backyard gathering, you need to confirm who is hosting the gathering is taking the following precautions.
Keep the gathering small.
Ascertain the risk of everyone involved.
Ensure everyone is wearing a face mask.
Adhere to social distancing.
Avoid sharing food on the same plate with someone.
Keep unvaccinated guests outside as much as possible.
However, Backyard Gathering is fun, but gathering in a large group may not be entirely safe, especially for unvaccinated people. Here are lists of fun activities you can do with friends in your backyard:
Backyard Fun activities
3. Have a Garden Party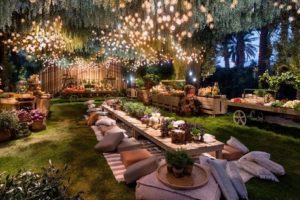 A garden party is a fun party where friends and family gather outdoor, usually in their private garden in the backyard, for all kinds of celebrations.
To organize your backyard garden party, you need to decorate the garden, trim/prune some of the flowers, provide enough seats and shade for your guest if it's on a sunny afternoon and of course, make food available.
2. Play Beer Pong
Beer pong, just as the name sounds, is a kind of drinking game in which two teams play against each other by throwing ping pong balls across a table intending to land them in a cup of beer which is usually set up in a triangular form in groups of six to ten at each end the table.
It usually consists of two or more players per side competing with beer. Beer pong is a normal outdoor game played by friends at parties such as a backyard party.
What you Need to Play Beer Pong
You need a few things in place to play beer pongs, such as a table tennis table (also known as a ping pong table) or any sizeable table.
You need some plastic cups; if you have the traditional red solo cups, then great, but any plastic cups can serve.
You need beer – without beer, you wouldn't call it a beer pong or use any beverage if you are playing with kids.
Then finally, you need so ping pong balls.
To play the game, you need to form two teams, each of the teams need to have an even number of players.
After selecting the team players, if one person remains after the teams have been evenly shared, the person can serve as a referee or bartender.
The referee or bartender can join the game after a while by switching with another player. He may choose to continue as a referee and be cheering others while they play.
How to play beer pong:
Arranged the cups in a triangular form, six on each side of the table.
Pour some beer into each of the cups; after that, the players can start playing by tossing, throwing, or bouncing the ball into the cups containing the beer.
The first team or player to start is determined randomly, by tossing a coin.
Once the game commences, and a player from any of the teams throws or tosses a ball, and it lands in the middle cup of the other team, then their team automatically becomes the winners.
When this happens, the other team must drink the beer in all the cups and get it refilled for another round.
But if the ball lands in another cup that is not the middle cup, the cup is considered sunk, and one of the team players must drink the beer in it; this continues until all the cups have been sunk.
3. Have a Barbecue Party
What makes any barbecue party remarkable is the food. You must make sure all the food and recipes needed for the barbecue party are ready before your friends arrive at your house.
Before you start grilling, ensure you have more than enough charcoal or propane gas that will last throughout the party because running out of gas or charcoal in the middle of the party can kill the fun.
Grilling is fun, especially when everyone joins hands in making it possible. The experienced chefs in the house should take care of the cooking while others should voluntarily serve the foods and drinks.
Make provision for a cooling system to keep drinks chilled throughout the party. A bucket of ice can serve this purpose.
Setting up some recreational activities like a Tetherball game or Croquet set for kids in your backyard will go a long way to keep them engaged while the adults have a good time at the party.
It's essential to ensure adequate outdoor light is in place because it may get dark before you know it, and you don't want to stop having fun with friends.
You also need some good music to make it entertaining. Music is what sets the tone of any barbeque party, so you need to play some summer hits with some quality outdoor speakers to make it slap.
It would be best to provide your guests with some shade by setting up a cabana or an outdoor tent over the dining table. Also, make sure you have enough seats for everyone.
4. Boozy Game Night
Boozy game is another kind of drinking game you can play with friends in your backyard. You can play a No-Hand Flip Cup game in which participants stand at the opposite sides of a table on which cups filled with drinks are lined up.
To win, each member must first finish the drink in their cup, then clip it before the next team member can start, and they must do this by touching the cups with their hands.
Another example of a drinking game you can play with your friends is Flip, Sip, and Stir. In this game, one player begins by flipping a coin and guessing whether it's going to be "heads or tails."
If the guess were correct, the player passes the coin to the next player on their team, who also flips the coin, but if the guess were wrong, the player would have to sip a drink or strip a cloth.
There are so many other drinking games you can play with friends, such as Drunk Jenga, Drunga, Water or Vodka, Booze Taboo, and several more.
5. Backyard Mini Golf
You can set up a Mini Golf course in your backyard where you can play with your friends on a sunny day regardless of the size of your backyard.
You don't need a lot of space for a Mini Golf course because it has just a single hole and it could come in handy as a means of recreation whenever your friends visit you.
6. Water Fight Game
Water Fight is another excellent game you can play with your friends in your backyard.
The game's objective is to get your opponent wet using different water dispensing devices such as water guns, balloons, buckets, or using cupped hands while remaining mostly unsoaked.
You can play a water game at different levels, either as casual, objective-oriented, or even tournament style.
The amazing thing about the water fight game is that it helps you cool off on a hot day, and there are different types of water games you can engage in, such as Water Sponge, where the team players try to fill a bucket with water using a sponge.
You can also play Fishing for Marble, where participants use their feet for fishing for marbles in a bucket of icing water.
You may decide to play Water Tug of War if you have a pool in your backyard; the objective here is to pool the team at the other side of the pool in it to get them soaked in water.
You can play so many other games such as Water Bomber & Water Balloon Dodgeball etc.
7. Backyard Camping Party

You can transform your backyard into a fantastic camping site instead of going through the hassle and stress of packing your bags and going on a road trip to find a nice campsite.
Backyard camping is pretty fun and a great way to enjoy your outdoors. All you need to do is set up tents with some camping seats, then prepare some campfire recipes with a camping stove.
You can build a backyard fireplace to keep yourselves warm when it gets chilling at night. You can play a card or board games to entertain yourself while camping in your backyard.
You can play many other games while camping, such as Frisbee, Corn hole, Giant Jenga, Badminton, Croquet, Washer toss and more; it all boils to the size of your backyard.
You can also hang some strings of light from poles, or you could even hang them in yours to add a magical touch to your backyard camping.
Drinks like cocktails, lemon juice, beer, or gin, with ketchup and mustard, which makes camping classic, should be available.
You can also make campfire popcorn, grill some pork chops, tell stories around the campfire, watch a classic movie, play, sing, and dance to some songs around the campfire.
You can prepare the traditional s'more recipe or add a little mix to it, such as a Pretzel Treat recipe Cracker Jack and Cracker Jack since your kitchen is just a few steps away.
8. Host a Backyard Painting Party
You can host a mind-blowing painting party in your backyard. You can invite your friends, have some drink, and then do some fantastic painting in your backyard.
Painting Party can help you take off some load from your mind. The painting party involves mainly popping some bottles and painting some masterpieces or commendable drawings.
But that does not mean you can't incorporate some classic outdoor games like Outdoor twister and Cornhole or some board games to make it more entertaining; you can also play some classic songs.
A backyard painting party wouldn't be so remarkable if there is no wine, don't forget to stack up some wine before inviting your friends.
You can make some cocktails for your friends that are not quite into drinking or some grape juice so they wouldn't feel like they are left out.
Though backyard painting parties are not known as major food events because your hands are mostly occupied with paint and wine, it is necessary to plan for some simple foods like fruits, baked foods, and veggie trays.
You can also get catered food from a local restaurant with some cheese and well-prepared meat to remove the stress of cooking to elevate your party.
9. Inflatable Pool Party
An inflatable pool party is an excellent idea for a fun recreational activity to do in your backyard on a hot day, especially when you don't have a swimming pool and accessing a community pool or water parks may be too much of a hassle.
Inflatable pools come in different shapes and designs, and it is an excellent idea to cool off in your backyard without breaking the bank to construct a concrete ground swimming pool.
Most inflatable pools are made of thick synthetic material, and they have multiple valves, making them relatively easy to inflate and deflate.
10. Outdoor Movie Night
A movie night is another great way to gather with friends to have some fun on a cozy night. Even if you don't have a big TV set or a big projector screen, you don't have to bring the bank to organize a special outdoor movie night.
You can easily use material you already have in your house, such as a big white sheet which you can hang on your fence or set up with two posts. You can also hang the white sheet by the side of your house using tape, staples, or nails.
Alternatively, you can use the side of your house, or you can get yourself an inflatable screen which is quite inexpensive.
Since outdoor movie night takes place in the evening, you'll need some form of ambient lighting that is not too bright to affect the projector but bright enough to allow your friend to stay out of the darkness.
Outdoor candle lanterns or outdoor fairy string lights can serve this purpose, or you could go with classic garden stake lights with colorful lightbulbs to give it a cozy and magical touch.
When hosting an outdoor movie night, one of the most important things you need to consider is providing good seats to make sure your guests feel comfortable while enjoying the movie.
Outdoor furniture like a lawn chair is a good fit, but you can alternately use dining chairs or bean bag chairs or sleeping pads and pillows if you do not have outdoor furniture. You can also provide blankets or sleeping bags for your guests to keep them warm during the night.
Providing snacks for your guests is another thing you shouldn't forget to make sure they have a great time. It doesn't necessarily have to cost you a fortune. A basic popcorn bar will be more than enough.
However, snacks are also considered as one of the peaks of outdoor movie nights. You could even make some s'mores while enjoying the movie if you have a backyard fire pit.
You may consider hosting a different outdoor movie night where your friends stay in their cars with blankets and snacks to adhere to the social distancing rules, and this is called a drive-in movie night.
In this case, a garage door can be used as a backdrop for the movie, or you can hang a white sheet of cloth on a fence close to the driveway then project the movie on it.
This ensures that your friends will have some fun while adhering to the local rules and regulations on public gatherings due to the pandemic.
When choosing a movie for an outdoor movie night, you need to consider the kind of movie your friends will enjoy. In case your friends are coming with their kids, you may go for a family-themed movie that is appropriate for kids as well.
11. Backyard Lawn Bowling Game
Backyard bowling game is another terrific way to exercise and have a good time with your friends.
Backyard bowling is a flexible game, and you can play it on almost any type of surface, but it is enjoyed more when played on short-cut lawns, carpets, or hard flat surfaces.
Conclusion
It's incredible to have some fun and relax with friends in our backyard once in a while. But it is essential to consider safety. So, you have to keep the gatherings small.
Consider the level of risk involved when hosting a backyard gathering. Try to promote healthy behaviors by encouraging social distancing, use of hand sanitizers and nose masks.
Maintain a healthy environment by making sure the area is well ventilated. This will go a long way to reduce health-related risks associated with large gatherings.
You May Also Like
Hope this article is helpful, kindly use your social media account like Facebook and Twitter to share this information with those that might need it. Let's know your thought in the comment section below!
Cheer!
www.backyardcaring.com
Is Backyard Gathering Considered Outdoor Gathering