It is the dream of every gardener and homeowner to have a well-trimmed lawn that is lush. This scenery gives a warm feeling to the people who live there and shows how much they care for their home.
Trimming your lawn is not just to make your space look good and tidy; it is also a means of keeping pests and dangerous animals far from your home.
Snakes and other animals can hide in long grasses and pose a danger to you and your loved ones, which is another motivation for mowing the lawn.
Taking care of your lawn is usually done by the use of a mower which comes in different designs, sizes and brands. The hover mower is a lawnmower that is fast becoming the favourite device for cutting lawns in most homes.
The hover mower floats on pockets of air that an internal fan in the device creates. The distinguishing feature of this device is that they dont have wheels. We will let you know what makes a good hover mower and which brand is best for you.
What Is The Advantage Of A Hover Mower?
While all lawnmowers can trim your lawn and keep it looking good, hover lawns are more effective and efficient in this task and the reasons why many includes prefer them:
1. They Offer Multi-directional Movement
The fact that hover mowers have no wheels means they can be pushed easily in any direction with so much ease. 
For most lawns with irregular borders and parts that can be easily reached by the conventional lawnmowers, like under the one tree pockets of grasses, the hover mower is the best bet for such lawns.
2. They Offer the Ease of Maneuverability
Because most hover mowers are light, they can easily be swung around in all directions and handled by less physically able people.
3. It is Time and Energy Efficient
Because of how lightweight they are and their ability to move with ease in all directions, hover mowers have the advantage of you expending less time and energy in mowing your lawn.
4. They are Effective on Slopy Terrain
One of the major advantages of hover mowers is their ability to mow lawns in steep topography. 
Wheels in other lawnmowers give a lot of resistance when moving uphill, unlike the hover mower; hence, they effectively mow steep slopes, water edges, and the likes.
5. They are Relatively Cheaper
Hover mowers are cheaper than other mowers and are preferred by many people who buy on a budget.
6. Ease of Storage
Most hover movers have folding hands, making them easy to store as they take up less space. They can be hung on the wall, which makes of efficient storage.
Read Also: How To Cut Grass Without a Lawnmower (6 Creative Ways).
The Disadvantages of a Hover Mower
There are some reasons why people do not use hover mowers, and some of them are:
1. Only very few hover mowers come with bags for collecting grass, which means you have the extra chore of dealing with the grass in your lawn after mowing.
2. Because hover mowers do not have wheels, they must be carried to the lawn and back from where you stored them. These many people find it a little tiring.
3. Most time, hover mowers give a low cut because air pushes the grass away from the device's blade. Hence hover mower does not give a perfectly trimmed lawn.
4. Most hover mowers are not durable because they are mostly made of light plastic, and hence they are not as durable as other mowers made from metals.
5. Most hover mowers do not work effectively on long grasses or weeds, and you might end up with a lawn that is uneven in height, especially if the lawn is not flat and even.
Things To Look For In A Hover Mover
Mowing your lawn is an uphill task that can take a toll on you, but you can get the job done much easier if you use the right tools.
The key to reducing the drudgery associated with mowing the lawn is to buy the ideal lawnmower.
Before you give your money in exchange for a hover lawn mower, these are a few things you have to keep in mind:
1. The Area of the Lawn You will be Mowing
There are different brands and sizes of lawnmowers that are meant for a given lawn size. For example, suppose you have a small piece of lawn. 
In that case, you could get a corded hover mower for it in as much you are sure the cord will be adequate for moving around the lawn. 
Still, you cannot use the same corded hover mower for a large lawn because the cord will not go round, and the mower cannot effectively mow the big expanse of lawn.
2. What Brand of Hover Mower do You Want
There are different brands of hover mowers that differ in durability, quality and price. 
A little research will help you determine the best bet for you. Brands like Ego, Worx, Greenwood and Flymo are some popular brands.
3. The Source of Power
Hover mowers can be powered by gas or electricity. Many people prefer the electric hover mower because they are not noisy and they dont have any smoke discharge neither do they have any gas fume that smells. But you are better off with a gas-powered hover mower if you have a big lawn.
4. The Ease of Use
There are lots of lawnmowers with different features that can endear them to people's hearts; this could be safety features, ease of use, and the likes.
There are now robotic lawnmowers. Your best bet is to pick a hover mower that fits your need and not one with the most features.
5. After-sale Service and Maintenance
Some hover mowers offer after-sale services and a longer warranty; these are things to look out for when looking for a unit to buy.
Most hover mowers have a 24 months warranty; if you get one with a longer time frame and it suits your purpose, you are better off buying it.
6. Price
This is one of the greatest determinants of what you can buy. Most cheaper hover mowers have less features and durability. 
If you are shopping on a budget, it will be good to read customers' reviews to ensure that you get true value for money.
Don't be fooled by the aesthetic exterior of the hover mower and then neglect the real reason you are buying it. You can ask for a demo before you part with your cash.
Which Is The Best Hover Mower To Buy? (Hover Mower Review)
Many hover mowers in the market can serve any purpose you want them for. Here are a few of the ones that caught our attention:
1. Flymo Easi Glide 300 Hover Mower
Unlike most hover mowers that do not have wheels, this unit has small plastic wheels positioned at the front of the mower.
Features:
1. It is an electric powered device with a 1300W engine and a cable that is 12m long.
2. This hover mower has a 20l collection basket that catches grasses and compacts them.
3. It comes pre-assembled with some spacers and spanners.
4. This device has control on both sides so that a left-handed and a right-handed can use it easily.
It folds into a cute compact shape; then, you can tilt it and tug it into the garden. The mower has a 20l collection basket hidden under its bright orange casing.
Why You Will Love It
1. The Flymo Easi Glide 300 Hover Mower is lightweight and weighs about 8.5kg which makes it easy to be used by almost everyone
2. The cable is very long and hence gives you room to mow a relatively large area. It also has cable clips on the handlebar that ensures the cable doesn't tangle and that you don't cut the cable accidentally while working.
3. The collection basket is large, and it also compacts the grasses and makes it easy for disposal.
4. This unit can be stored and transported easily because it can be folded into a compact shape without taking up a lit of space.
The Not So Good Points About It
1. Like all hover mowers, it does not trim long grasses effectively.
2. It is difficult to use them in trimming kerbs and edges.
3. You cannot use it to mow a large lawn because the cable will limit how far the mower can mow.
2. Flymo XL500 Honda Hover Mower (Petrol)
This is another great product by the Flymo brand; it is a petrol-powered hover mower that weighs about 18kg.
Features:
1. It has a 4-stroke Honda and offers a cutting height of 10mm and 40mm.
2. It is a mulching mower, and it does not have a grass collection.
3. It has operator presence control which means that as you step back or release the handle, the hover mower disengages from its function.
Why You Will Love It
1. The unit can cover a large area at once, given that it cuts half a meter at once.
2. Though the unit is square, it has round edges, making it difficult to damage the landscape or even the mower as you work.
3. It is power efficient because the engine of the devices stops working when you release the handle or step back.
4. It is self-propelled when turned on, meaning you won't feel its weight as it is working.
5. It has a two-year warranty, and it has power and speed control.
The Not So Good Point
1. You can easily soil the petrol as you work with the device.
2. You have to either drag it or carry it to the lawn before it can propel itself as you switch it on
3. Sovereign Hover Mower (Electric)
This unit is made for gardeners who have a sense of style and taste. It is a stylish hover mower with multiple plastic blades designed for light lawn mowing.
Features:
1. It has a stylish interior, and the blades are made of plastic. These plastic blades can easily break and so can be replaced with others that come in the package.
2. The cutting tray of this device has a standard design that can be swapped with one with a metal blade.
3. It cuts at two heights which is 12mm and 33mm
4. It has knobs st the sides that allows one to fold the handle for storage.
5. It is very lightweight and weigh about 5.2kg
Why You Will Love It
1. It is very light, meaning you have less strain and fatigue while working with it.
2. It comes with extra blades so that you can easily replace the plastic blade if it gets damaged.
3. The cutting height of the device can be adjusted to 2 different positions
4. It makes for easy transportation and storage because of the handle that folds easily.
The Not So Good Point
1. The plastic blades can break easily, which means extra cash is required to replace them once you exhaust the extra blades that came with the package.
2. It is built to be used in very small yards.
3. The cutting heights are so low, and this implies you will have to cut your grasses more often using this hover mower.
4. McGregor Hover Mower (Electric)
This Electricity powered hover mower emits 1.45kW and is meant for use in small lawns.
Features
1. The unit comes with a cable that is 10m long and weighs about 6kg, making it very lightweight.
2. The unit comes disassembled, which means you will have to assemble it yourself when you buy one.
3. The unit has a 20l built-in grass collection bin
Why You Will Love It
1. The weight is a little below 6kg, making it lightweight and easy to carry and maneuver.
2. The collection bin is seethrough, making it easy for you to know when to empty it.
3. The castors at the front of the device makes it easy to be transported and store.
4. It comes with a cable clip that helps keep the cable in place as you mow.
The Not So Good Points
1. The device comes disassembled, so you need a little craftsmanship to assemble it.
2. It can only be used in smaller lawns because of the length of the cord, except you will go through the stress of linking more extension cables.
5. Spear & Jackson Hover Mower (Electric)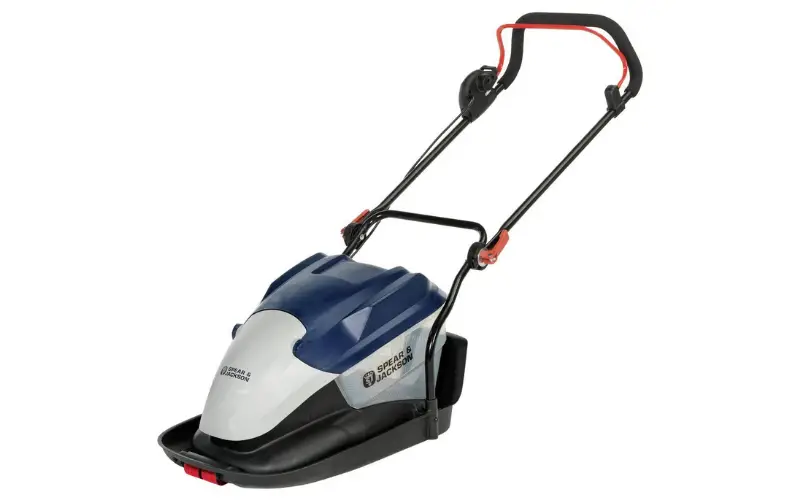 The bright blue colour of this unit is one of the first impressions that get people to love it together with its high power engine. It is an electric hover mower that is self-propelled and gives out a power of 1. 7kW.
Features:
1. With a motor that gives out 1.7kW power, it is a very strong hover mower.
2. The wireframe serves as an "Operator Presence Control" OPC which means that the machine stops working if you let go of the wire.
3. The mower is turned- on by the wire handle when it is tugged against the padded handle.
4. It has a castor, and its blade is made of steel.
5. It has four different cutting sizes.
Why You Will Love It
1. It is self-propelled, and OPC operated.
2. The power of the mower makes it ideal for cutting dense grasses.
3. There are four different cutting heights from which you can choose, and the range's from 12mm to 33mm.
4. You could use the mower with the collection bin inside or remove the collection bin and leave the grass on the ground.
The Not So Good Points
1. The blades need to be sharpened even before using them for the first time.
2. It's a tad too expensive.
Tips For Making The Most Of Your Hover Mower
Hover mowers can last for a long if you maintain and take care of them properly. With proper maintenance, you can enjoy your mower for ten years, and it will still be working optimally. Here are a few tips on how you can take care of your lawnmower:
1. Always Sharpen The Blades
The blade of your hover mower is one of the most important components of the device, and keeping it sharp means you will cut your grasses efficiently without tearing them.
The blade of your mower should be sharpened twice a year, and if they are bent, you have to hammer them to get back into shape, but if they are beyond repairs, they should be replaced.
2. Replace The Spark Plug
The spark plug should be replaced at least once a year during spring this is to ensure that the mower works in optimum condition
3. Check The Oil
At the start of the mowing season, you should use the dipstick to check if the oil level in your mower is adequate; if not, you should top it up.
4. Check The Fuel
If there is any fuel left in your engine from the last mowing season, quickly dispose of it as gasoline that has stayed for long has gone bad and will be bad for your engine. Replace it with new gasoline.
5. Clean The Air Filter
The air filter might have collected dirt and debris from the last mowing season, so you should clean it up or even have it replaced. It is good practice to replace your air filter annually, so if very dirty or damaged, then get it replaced.
6. Proper Cleaning
Whenever you finish mowing your lawn before you take it in for storage, quickly clean it to get rid of any debris. Check to see that no clump of grasses stuck underneath the mower can stop it from functioning properly.
7. Remove Fuel
If you have a gas mower, you should remember to remove any fuel left in the tank before you put it into storage for the winter.
Old fuel will go bad and may even corrode the innards of your mower. Take it out and then add new fuel at the start of the following year.
8. Never Leave Them Outside
When your hover mower is not in use, quickly clean them up and store them in a cool place away from the elements. The more they are exposed to the weather, the faster they will wear and tear and need to be repaired or replaced.
Do Hover Mowers Collect the Grass?
Yes, many hover mowers collect grasses; in fact, most of the ones we talked about earlier all have collection bins for grasses. 
The only problem is that the fine clippings may not be collected because the high speed of the blade blows them away.
This is worse when you are mowing a wet lawn with your hover mower; it just leaves a little mess of grass clippings on your lawn.
Why is My Hover Mower not Hovering?
The science behind hover mowers is that a cushion of air is created underneath them, making them easy to move around the lawn, and anything can stop the hover mower from floating from thatch to moss.
A build-up of grass clippings or cuttings between the impeller and the fins or even under the hood of the hover can stop your mower from hovering.
To take care of this problem, you have to scarify the lawn and get rid of these thatch and moss by tipping the mower a little on its side so that air can circulate under the cutting deck.
Conclusion
The hover mower has come to stay as a mower of choice for taking care of our lawn. They are effective, lightweight and cheap, and if you maintain them properly, we can use them for a long.
There are a wide variety of hover mowers that differ in many ways. There are other considerations to keep in mind as you shop for one. Buy a hover mower that fits your need and takes care of your lawn.
You May Also Like:
We trust this article helped you know Which is the Best Hover Mower to Buy. You may also want to check out: How To Cut Grass Without a Lawnmower (6 Creative Ways).
Thanks for taking the time to read our article, and we hope you find it helpful. Would you mind leaving a comment below if you have any suggestions?
Kindly reach out to people by sharing this post on social media.
If you liked this article, then please follow us on Facebook, Instagram, and Pinterest.