A cold winter may be the perfect time for hot chocolate and a bowl of hot soup, but it doesn't have to be that way.
You can substitute hot meals with raw ones, and when it comes to these meals, you should know that your options are not limited but diverse.
Here are 30 of the best raw winter recipes you have to try. These recipes include a variety of vegetables, nuts, and fruit, and we have provided you with every detail you need to make these meals.
30 Of The Best Raw Winter Recipes
The recipes below feature various vegetables, fruits, nuts, seeds, and spices that can be combined differently to form a healthy dish.
1. Winter Apple Walnut Cranberry Salad
Be prepared for a nutty and salty flavor with this salad containing spinach, green apples, walnuts, dried cranberries, and gorgonzola cheese. You can season this meal with garlic powder, olive oil, Apple cider, dried basil, and black pepper.
2. Creamy Cucumber Gazpacho 
This raw winter dish is a blend of everything you need In a healthy and tasty salad. Add some olive oil and some water until this mixture reaches the right consistency. The unique cucumber taste makes this bowl extremely delicious.
3. Fruit Salad With Lemon And Poppy Seed Dressing
this salad consists of various fruits and a mix of lemon poppy seed dressing. For the dressing, make a mix of lemon juice, sugar, olive oil, vegetable oil, and honey. For more festive and winter feelings, use fruits that go with the Christmas theme; some examples include; pomegranate, red apples, kiwis, or green apples.
4. Blueberry Banana Smoothie
This smoothie is a blend of bananas and blueberries. It can also be paired with peanut butter, non-dairy milk, and some toppings.
You have various options for topping; it's all based on your preferences. You can also spice things up with nuts like flaxseed, chia seeds, and hemp seeds.
5. Winter Salad With Citrus Vinaigrette
A winter holiday is packed with food, and a leafy meal will be a nice change. This salad includes a combo of fruits and vegetables paired with citrus dressing, which can contain orange juice, orange-based vinegar, orange zest, or even grapefruit. Sometimes, honey can be added to this salad to make it tastier.
6. Raw Winter Vegetable Salad With Vegetable Juices
This salad is simply vegetables bathed in their juices. Winter vegetables like kale, parsnips, carrots, red cabbage, Brussels sprouts, and others will be perfect for this meal.
Add some olive oil and vinegar to add more taste to the salad. Viola! You have made a delicious winter dish in less than 10 minutes.
7. Raw Vegan Pepper And Tomato Gazpacho
If you are looking for a raw protein-rich dish, this meal is your match. Juicy cherry tomatoes and some red peppers should do just fine. Add some onion and almonds to substitute for olive oil. This meal is oil-free, gluten-free, and healthy, perfect for even vegans.
8. Creamy Avocado Gazpacho
This puree consists of some onions and garlic. Virgin olive oil and some vinegar. Gazpacho is a blend of different food ingredients, and this particular recipe happens to be one of the best.
After gathering the basics, blend the mixture without water until smooth, then gradually add water until it reaches the right consistency. If you don't like a lot of garlic and onion, you can reduce the amount used.
9. Easy Apple Coleslaw
Get chopped cabbage,1 red apple, 1 granny smith apple (unpeeled), carrot, onion, red bell peppers, mayonnaise, lemon juice, and brown sugar.
You will mix a dressing of lemon juice and sugar to the fruit and vegetables' topping it off with some mayonnaise; this healthy combo is perfect for vegans as it is classified as a full nutrition dish.
10. Avocado Mango Salsa
This combination can be served alone or paired with chicken or grilled salmon. You will need avocados, lime juice, mangoes, onions, habanero peppers, cilantro, and salt. This serving contains more carbohydrates than proteins.
11. Fig Arugula Salad With Pecans
This salad is a mixture of different flavors and food textures; it can be made a day or two before use and can be used to compliments other dishes just fine. You will need fresh figs, arugula, pecans, red onions, goat cheese, honey, and vanilla dressing.
12. Festive Fruit Salad
This salad is a good idea to get into the Christmas season. You can pair it up with caster sugar and some lime juice with a mix of Christmas-themed fruits like cherries, strawberries, raspberries, watermelon, and kiwis. It takes less than 10 minutes to prepare a full bowl of this salad.
Raw Vegan Winter Recipes
13. Lemony Chickpea Quinoa Salad
This salad can be made within minutes as you can easily find the ingredients in your kitchen. You'll love the flavor of chickpea quinoa mixed with some cucumbers, tomatoes, kalamatas, parsley, fresh dill, red onion, and lemon dressing. This salad can be paired with dishes like pita bread and falafels.
14. Creamy Vegan Broccoli Salad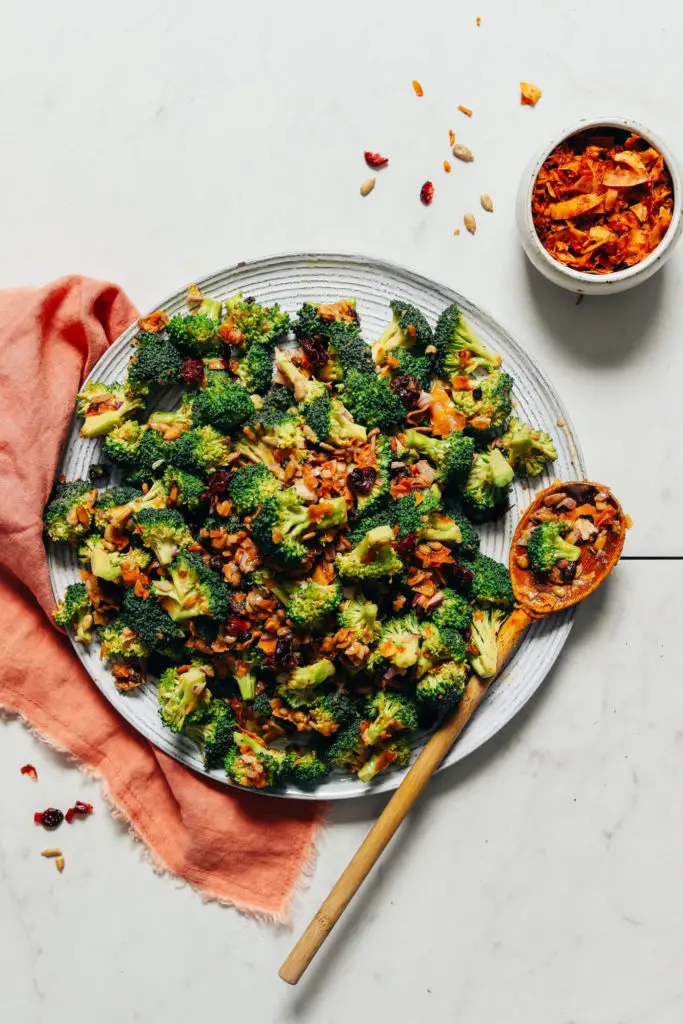 Not only does this salad look good, but it is also tasty! This impeccable combo is made from broccoli, turnips, radishes, purple cabbage, and some onions. You can use mayonnaise to this salad if you like; as a topping, you can sprinkle some sunflower seeds and some hemp hearts.
15. No-bake Cereal Bars
This healthy cereal bar can be leftover cereal; there will be no waste. You can have a mix of cheerios, oats, rice flakes, some milk, and a little cinnamon. This combination takes about five minutes to make.
16. Raw Pad Thai
If you are searching for healthy and tasty all in one bowl, this is the perfect dish. Raw almond butter should be used, but if this is not available, you can use roasted almond and cashew blend with kelp noodles, carrot, zucchini, bell pepper, scallions, and bean sprouts, cilantro, jalapeno, and lime wedges.
17. Raw Vegan Protein Bowl
Get a bowl of colorful and healthy vegetables with this protein mix. If you have chickpeas, quinoa, basil, spinach, tomatoes, avocados, and cucumbers, then you are capable of preparing this dish. You can spice it up with a lemon-based dressing to give it a complete finish.
Raw Winter Dessert Recipes
18. Raw Avocado Chocolate Pudding
Try out an avocado chocolate pudding if you want a quick dessert that can be prepared in less than five minutes. Mix some avocados, cocoa powder, maple syrup, a little vanilla, and a pinch of salt in a bowl.
19. Lemon Fluff Dessert
If you love the sharp taste of lemon, then you will adore this dessert. Dissolve lemon jello in a cup of hot water, prepare pie fillings and wrap with plastic until cold; mix the pie filling with the jello and top it off with some whipping cream. Lemon fluff can be made in advance and allowed to chill before use.
20. Creamy Oreo Dip Dessert
Oreos have been used to make various quick desserts, and this creamy dish is not an exception. Using a mixer, beat butter and cream cheese until fluffy. After that, add in some whipped cream, sugar, and vanilla, mixing them thoroughly. Add in some ores and serve with some crackers or small Oreos chunks.
Healthy Raw Winter Dessert Recipes
21. Raw Coconut Cheesecake
This no-bake recipe is sinfully tasty. Get yourself some unsweetened coconut flakes, dates, and macadamia nuts for the toppings, cashews, coconut milk, and some coconut oil. Blend these ingredients to get a complete coconut taste to match the winter vibe.
22. Edible Cookie Dough
This is just like real cookie dough; the only difference is that eggs are absent, and it is healthy to eat. Mix all the ingredients of traditional cookie dough in a mixer, or you can do this by hand by creaming the butter and sugar, then adding the dry ingredients like flour, salt, and vanilla. To make this dessert safe to eat, you have to treat your flour.
23. Nice Cream Walnuts And Chocolate Raw Dessert
You need bananas, cranberries, blackberries, blueberries, avocado, and some water for the nice cream. You will mix lightly salted butter, dark chocolate, vanilla, and coconut sugar for the chocolate frosting. This dessert consists of layers of fruits which are then topped with a chocolate frosting.
24. Winter Citrus Smoothie
If smoothies are your favorite raw dish, you should try out this citrus smoothie. It consists of kiwis, tangerines, lemon juice, turmeric, hazelnut, black pepper, hemp seeds, and raspberries. Throw these ingredients into your blender, and to make a mix, this smoothie is best taken alone.
25. Green Smoothie
A green smoothie is one of the easiest smoothies to make at home. You will need some spinach, water, mango, pineapple, and frozen bananas. You should blend this combo in stages to avoid having leafy chunks, and if you want to enjoy this smoothie cold, don't use ice; instead, use frozen fruits.
26. Raw Cream of Celery Soup
Just blend celery, cashews, and some garlic, and add water to make this soup. You should blend this mixture for some time to warm it. Pour it into a bowl and garnish it with some raw celery.
27. Raw Hearty Walnut Pate
This is a deliciously salty raw dish that can be made easily in the comfort of your home. Soak walnuts for some time and place them in a food processor along with some onion, carrots, celery, and sea salt. This mixture should have a consistency similar to smooth cream cheese. Add soy sauce to garnish.
28. Cauliflower Rice Sushi
This dish is equally fancy and perfect for the cold weather. This is made of cauliflower rice paired with avocados, watercress, red cabbage, red and yellow pepper, and some onions. This dish may take some time to make as you are required to make the sauce and sushi rolls.
29. Curry and Zucchini Noodles
This raw food is healthy and suitable for vegans. With 10 minutes of your time, blend some coconut water, raw cashews, garlic, avocado, curry powder, chili powder, cayenne pepper, and some salt. Wash and chop the zucchini and then add the blended mixture to it.
30. Tomato Avocado Mushroom Corn Soup
This soup is a mixture of various spices paired up with chopped tomatoes, avocados, and mushrooms. This raw food is perfect for the cold weather and also for vegans. You can spice it up with some basil leaves and sesame oil.
Conclusion
Winter is a festive season, and after eating a lot of food, you may want a break from all the sugar and fat. You can opt-in for some healthy raw salads, soups, and smoothies. The recipes above contain some raw food suitable for even vegans.
While most of these recipes take just a little time to make, others can take a longer time. Remember to prepare these foods in the right consistency using the right quantity of food ingredients; you should also be cautious of the type of spices used to avoid a very strong flavor.
You May Also Like:
We trust this article helped you know the best raw winter recipes you have to try. You may also want to check out: 10 Things You Can Do Right Now For a Gorgeous Yard This Summer.
Thanks for taking the time to read our article, and we hope you find it helpful. Would you mind leaving a comment below if you have any suggestions?
Kindly reach out to people by sharing this post on social media.
If you liked this article, then please follow us on Facebook, Instagram, and Pinterest.